Death Toll may rise in Assam Ferry mishap
New Delhi, Tue, 01 May 2012
NI Wire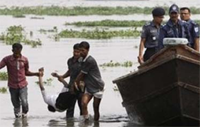 24 hours later of the mishap in Assam where a steamer capsized killing at least 103 people, the rescue operations still continue as number of casualties are expected to go up.
National Disaster Force, Army, BSF's water wing, and police all are carrying together a massive rescue operation in the river. Two infantry columns, two engineer task forces with six boats, 12 divers and medical teams carried the rescue operation through out the night.
Tarun Gogoi, the Chief Minister of Assam said that 103 bodies have been pulled from the river so far but the death toll is likely to rise.
Prime Minister Manmohan Singh has expressed shock and grief on knowing about the loss of lives and the tragedy.
The steamer that left Dhubri ferry ghat for Medartary in south bank of the district in the evening of Monday split in two and sank because of the impact of the storm. People who survived said the ferry was over packed with nearly 300 people on board and with no life jackets, lifeguards or safety gear on it.
Nearly 150 people were on the roof of the boat and fell in the river when storm struck. Police said about 100 people have been rescued and are rushed to near hospitals.
Most of the ferries that sail in Brahmputra River in northeast India are without the required safety equipments and when storms like this strikes people are killed.