History of Organic Farming
New Delhi, Thu, 26 Apr 2012
NI Wire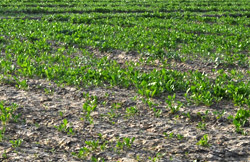 Organic farming is not a new concept of cultivation but has been practiced since ancient times in India and central Europe. Organic farming is the most original form of agriculture and has been in practice from the pre historic times. Though, during the Industrial revolution, the use of inorganic methods were introduced extensively but these methods mere not that developed and had serious side effects. The concept of organic farming regained its importance in the mid 1920a in the Central Europe when Rudolf Steiner came up with his work on biodynamic agriculture, an early concept of organic farming. Later his work was published in his book 'Spiritual Foundations for Renewal of Agriculture' in 1924 which was focused on the methods organic farming. Since than, there has been many works done to promote the concept of organic farming owing to its need as well as benefits. The periodic development of organic farming can be discussed as:
Sir Albert Howard, also known as the "father of organic farming" was a key founder of the post-industrial-revolution organic movement. This started when he was placed in Bengal, India and observed the agricultural practices at that placed and documented the entire process mentioning that the methods of cultivation used by them were far superior to the other modern practices used across the other part of the world. While his observation he saw that, the farmers were placing the dead plant and animal waste back to the land in order to enhance the fertility of the soil.
In 1939, first experiment on organic farming was carried on the basis of the findings of Sir Albert Howard. The experiment called the Haughley experiment was carried by Lady Eve Balfour where she carried out the process of organic farming and chemical farming in two adjacent pieces of land to make a comparison between them. Later, the findings of the experiment were published in her book, 'The Living Soil' in the year 1943.
Later, in the year 1940, a Japanese microbiologist called Masanobu Fukuoka worked for several years in order to develop a method of organic farming called Fukuoka farming.
Later, in 1946, a governing body called The Soil Association of the United Kingdom was formed with an objective to maintain a healthy relationship between plants, animals and soil.
In the year 1962, a renowned scientist, Rachel Carlson published her book 'Silent Spring'; that was focused on the various adverse effects of the excessive use of DDT on the environment in the process of farming. The book became one of the most famous books of that time and a best seller.
In the year 1972, The International Federation of Organic Agriculture Movements (IFOAM) was formed in Versailles, France, with an objective to promote and exchanges the knowledge of organic agricultural practices across the globe.