Mamata on backfoot, says her demand was an appeal not an ultimatum
Kolkata, Tue, 24 Apr 2012
NI Wire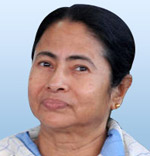 Chief Minister of West Bengal and Trinamool Congress Chief Mamata Banerjee, who is well known for threatening the government first and soften later, has once again has come on the backtrack and said a section of media has distorted my statement.
Mamata softening heart occurred just three days after her announcement in which she had asked to government to pay a fresh loan package for West Bengal. For this, she had reportedly given 15-days time limit.
But, on Monday, she clarified that she had not given the ultimatum but made an appeal to the center government. Media has distorted my statement and facts.
"The media have distorted my statement. What I said was actually an appeal, not an ultimatum. Media should think before sensationalizing the news," she said.
Banerjee also stated that from next time onwards all the press conferences and the statements would be recorded so that media houses can be challenged if there is a distortion.
On April 21, Banerjee had asked the central government to heed its demand within 15 days, warning that its "indifferent attitude" could become a "big issue".
"We have been waiting for one year. But enough is enough. The central government has also deducted Rs.1,500 crore from our share of CST compensation. On the one hand, it is cutting Rs.22,000 crore as interest, and on the other it is deducting Rs.1,500 crore from CST compensation. It means the central government is making the state government debt-ridden to ensure that it cannot function," she had stated.
"I am still appealing to the central government, but if it continues to remain indifferent, then it will be a big issue. I will still wait for 15 days. I have earlier called on the Prime Minister and met with the finance minister several times, but till now we have not received any funds," she had said.
Banerjee's volte-face ironically coincided with the Trinamool Congress MP Sukhendu Shekar Ray's statement that Trinamool MPs will raise the demand of interest moratorium for the state for next three years on the floor of parliament.
--With IANS Inputs--