Govt. on target as second half of budget session resumes today
New Delhi, Tue, 24 Apr 2012
NI Wire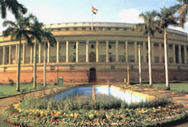 The second half of the budget session is set to begin today in both houses of the Parliament, and the opposition is eyeing to take on the UPA government on the edge. There are many issues on which BJP and other opposition parties can corner the government.
The main issues through which opposition parties can target the government are: Abhishek Manu Singhvi CD case, Naxal violence, defence related controversies, abducted Italian vessel row, and several financial issues.
On the other hand, UPA government would like to present and pass some key proposals including three financial bills - Pension Regulatory Bill, the Insurance Bill and the Banking Reforms Bill. Moreover, Piracy bill 2012, Railway Property (unlawful possession) Amendment Bill, 2011 are scheduled to be presented in Lok Sabha while Right to Children to free and compulsory education (amendment) bill, 2010, Central Educational Institutions (Reservation in Admission) amendment bill, 2010 are to be introduced in Rajya Sabha.
Besides, opposition, government may also face the heat from its ally Trinamool Congress too, which is asking a loan of Rs.2,00,000-crore for West Bengal for conducting the development. Trinamool Congress Chief Mamata Banerjee is also annoyed with Union Home Ministry, which is firm to set up National Centre for Terrorism Counter (NCTC) in the states.
Besides Mamata Banerjee, several non-congress state governments are also against the NCTC bill and it can attract heat in the Parliament.
--With Agencies Inputs--