RR vs RCB: Will Rajasthan bowlers stop Gayle and de Villiers storm?
New Delhi, Mon, 23 Apr 2012
NI Wire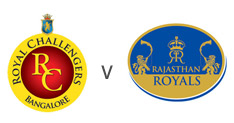 Royal Challengers Bangalore will be eying for revenge of their previous loss when they face Rajasthan Royals in today's match to be played in Sawai Mansingh stadium of Jaipur. The match will start at 8 pm.
In the previous encounter between the two teams, Rajasthan thumped a 59 run victory over RCB. But things have changed since then. The out of form Gayle and de Villiers are back on track and are doing what they do best, destroying opposition's bowler. Though the indifferent form of Kohli and Dilshan will be a matter of concern for RCB.
RCB will come in this match full of confidence with their previous 5-wicket win over Kings XI Punjab. On the other hand Rajasthan have to perform well as they lost their previous match against Chennai Super Kings.
Rajasthan Royals are at 2nd position with 4 wins in their 7 matches while RCB are 2nd from below with only 3 wins in their 6 matches.
Rajasthan Royals Team:
R Dravid, STR Binny, J Botha, DL Chahar, LD Chandimal, AA Chavan, A Chopra, PD Collingwood, K Cooper, AP Dole, SM Fallah, FY Fazal, SP Goswami, BJ Hodge, GB Hogg, AL Menaria, S Narwal, Pankaj Singh, AG Paunikar, AM Rahane, AS Raut, OA Shah, PR Shah, A Singh, S Sreesanth, SW Tait, SK Trivedi, SR Watson, DH Yagnik
Royal Challengers Bangalore Team:
DL Vettori, MA Agarwal, KP Appanna, S Aravind, KB Arun Karthik, RR Bhatkal, AB de Villiers, TM Dilshan, CM Gautam, CH Gayle, M Kaif, AA Kazi, Z Khan, V Kohli, CK Langeveldt, AB McDonald, A Mithun, M Muralitharan, KK Nair, DP Nannes, R Ninan, HV Patel, AUK Pathan, LA Pomersbach, CA Pujara, RR Rossouw, J Syed Mohammad, S Thiyagarajan, SS Tiwary, R Vinay Kumar, VH Zol