CBI blames Sajjan Kumar for Anti-Sikh riots 1984
New Delhi, Mon, 23 Apr 2012
NI Wire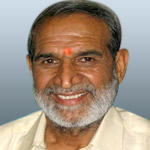 The Central Bureau of Investigation (CBI), the federal investigating agency, which is probing anti-Sikh riots 1984 on Monday accused Congress leader and former Member of Parliament (MP) from outer Delhi, Sajjan Kumar for inflaming the mob against Sikhs and organizing the riots.
According to CBI, the anti-Sikh riots at Cantonment area of New Delhi in 1984, were not spontaneous and was well organized.
Sajjan Kumar allegedly told mobs, ' not a single Sikh would survive', according to TV reports quoting the CBI.
CBI also added that the riots were well supported by the government and the police.
Sajjan Kumar and five others, Balwan Khokkar, Kishan Khokkar, Mahender Yadav, Girdhari Lal and Captain Bhagmal, are facing trial in the killings of six people at Delhi Cantonment during the riots.
They are accused of instigating a mob to kill Sikhs in the wake of the assassination of former Prime Minister Indira Gandhi on October 31, 1984. Kaur had earlier identified in the court Sajjan Kumar and three others as the persons who had allegedly instigated mobs during the 1984 carnage.
--With Agencies Inputs--