Anna denies any rift in his team due to yesterday episode
New Delhi, Mon, 23 Apr 2012
NI Wire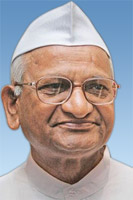 Anti Corruption crusader Anna Hazare, while speaking on Sunday's drama that there is any rift in his team following the Ramdev and Mufti Shameem Kazmi episode. He was responding to media at Delhi airport before going the his native village Ralegan Siddhi in Maharastra.
He had come here to attend a meeting of core committee of team Anna, where the episode of Mufti Shameem Kazmi occurred.
According to Team Anna sources, a Muslim leader Mufti Shameem Kazmi, who was the sole member of Team Anna has reportedly been expelled due to allegedly video recording of the meeting with the intension of leaking the footage to media.
Team Anna was also agitated over Baba Ramdev's Saturday announcement, which shocked team Anna, as the members were not taken in the confidence what Baba Ramdev, had announced.
This erupted clashed between Team Anna and Baba Ramdev, and it was decided that Anna would not tour with Baba Ramdev but may share the stage and would support to each other
"I have told you before that we (me and Ramdev) are not touring together, but we are fighting for the same purpose of getting black money and the Lokpal and Lokayukta bills. We shall stand together and share the same stage wherever needed," said Anna to reporters.
"After the Maharashtra trip, when we go together, it is possible that we share the stage," he added.
Over asking the expulsion of Muslim leader, Anna Hazare said that there is no fallout over the issue, and a team member was about to leak the information, now it has solved.
---with Agencies Inputs ---