KXIP vs RCB: Will Gayle Tsunami resurface again?
New Delhi, Fri, 20 Apr 2012
NI Wire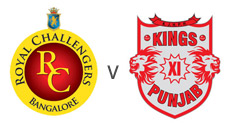 In previous match of Royal Challengers Bangalore Chris Gayle sent 8 balls back to the stadium and made 81 runs in just 48 balls helping his team win in an easy win.
Today Kings XI Punjab bowlers have the tough task to restrict the top four batsmen of RCB that includes the name of Dilshan, Gayle, AB de Villiars and Virat Kohli. Though all four have yet not performed in all matches but they have the capability to make any game theirs.
Tough Tasks resides also on the shoulder of the batsmen to build a big score if they bat first or to chase one. King XI Punjab is right now just above RCB having the same number of wins, 2 in their 5 matches.
While RCB won its previous match against Pune Warriors and will be having their morale high while going in this match Kings XI Punjab who lost their previous match will hope that thing work in their way in this match.
The 25th match of IPL 5 will be played in PCA stadium of Mohali between Kings XI Punjab and Royal Challengers Bangalore and it will start at 8 pm in the evening.
Kings XI Punjab Team:
AC Gilchrist, P Awana, KJ Abbott, L Ablish, Amit Yadav, Azhar Mahmood, BA Bhatt, Bipul Sharma, PP Chawla, SD Chitnis, BCJ Cutting, P Dogra, JP Faulkner, Gurkeerat Singh, Harmeet Singh, RJ Harris, DJ Hussey, P Kumar, VS Malik, Mandeep Singh, SE Marsh, AD Mascarenhas, DA Miller, AM Nayar, RR Powar, NJ Rimmington, N Saini, SJ Srivastava, Sunny Singh, PC Valthaty
Royal Challengers Bangalore Team:
DL Vettori, MA Agarwal, KP Appanna, S Aravind, KB Arun Karthik, RR Bhatkal, AB de Villiers, TM Dilshan, CM Gautam, CH Gayle, M Kaif, AA Kazi, Z Khan, V Kohli, CK Langeveldt, AB McDonald, A Mithun, M Muralitharan, KK Nair, DP Nannes, R Ninan, HV Patel, AUK Pathan, LA Pomersbach, CA Pujara, RR Rossouw, J Syed Mohammad, S Thiyagarajan, SS Tiwary, R Vinay Kumar, VH Zol