Anna, Ramdev to hold fast together on June 3
new Delhi, Fri, 20 Apr 2012
NI Wire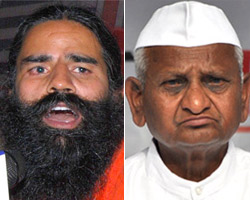 Yoga guru Baba Ramdev and anti-corruption crusader Anna Hazare are all set to go on fast together. Both have decided to join the stage on 3rd June at Jantar-Mantar to mount pressure on the govt. for a strong Lokpal and black money issue. Ending the so-called trench between the two, Ramdev announced that they would fight together till their last breaths.
Both of them revealed their one-day token fast program in a joint press conference today. They have applied for the permission for the fast on the same venue where Anna had hold his successful fast recently.
According to sources now Anna has changed his strategy for the strong Lokpal. Now he is going to demand a strong Lokpal bill in Maharashtra and he is all set for the same. He announced that he would visit 35 districts in Maharashtra and aware common people against the corruption.
Ramdev and Hazaare announced that they will roam the entire country to awake the people after June fast. They confirmed that their mission is to inculcate the reality in the mind of people before 2014 general elections.
Hazare reiterated that his move is not against the government but to awake people of the country.
(With Agencies inputs)