Mallya pledge employees to pay their salary by April 10
New Delhi, Mon, 02 Apr 2012
NI Wire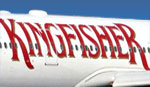 The Chairman of beleaguered airline Kingfisher Airlines (KFA) Vijay Mallya has appealed the employees to have patience till April 10, as on and before April 10, salaries will be delivered to all from junior staff to pilots and engineers.
On the contrary, KFA employees have set the deadline by March 03 at 8 p.m. for receiving their two months salary from the management and in case, it (management) fails to do so, all of them will go on indefinite strike, sources said.
In a letter written to Kingfisher employees, Mallya has said that junior staff would be paid before Easter on April 4 and all pilots and engineers will be paid on April 9 and April 10 respectively.
"Further to my earlier mail and media statement, I am pleased to advise you that the formalities of un-freezing our bank accounts was completed yesterday following our payment of Rs.44 crores to the Income Tax and Rs.20 crores to the Service Tax authorities before March 31st."
"My only focus now is to start paying your seriously overdue salaries. All junior staff will be paid before Easter i.e. on Wednesday April 4. All Pilots and Engineers will be paid on Monday April 9th and Tuesday April 10th."
On the other hand, in order to support the staff members, KFA staff have reportedly appealed to players turning out for the Indian Premier League (IPL) franchise-Royal Challengers Bangalore - not to fly on Kingfisher flights till their salary dues and other demands are cleared by the airline's management.
Kingfisher has a total debt of about Rs.7, 000 crore and accumulated losses of about Rs.6, 000 crore.
--With IANS Input --