Confident Pune Warriors to take on struggling Royal Challengers Bangalore
New Delhi, Tue, 17 Apr 2012
NI Wire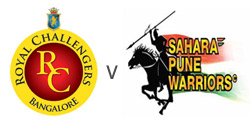 Although Dada is not taking things lightly, Pune are the favorites to win against a struggling RCB, who have lost their previous 3 matches. Warriors on the other hand are on third position at present with their impressive 3 wins in 4 matches.
Star-studded RCB has yet not performed to their calibers and big guns like Chris Gayle, Virat, AB de Villiers and Vettori have failed time and again. Pune lack big names but still they have managed to mark wins against strong teams.
In a pre-match conference Sourav said, "I don't think in this format anybody is a favorite. Tomorrow is a new day and could be different. RCB has some terrific players who can change things. But we are looking to fire tomorrow as well".
The 21st match between Royal Challengers Bangalore and Pune Warriors will be played in M. Chinnaswamy stadium of Bangalore from 8 pm.
Royal Challengers Bangalore Team:
DL Vettori, MA Agarwal, KP Appanna, S Aravind, KB Arun Karthik, RR Bhatkal, AB de Villiers, TM Dilshan, CM Gautam, CH Gayle, M Kaif, AA Kazi, Z Khan, V Kohli, CK Langeveldt, AB McDonald, A Mithun, M Muralitharan, KK Nair, DP Nannes, R Ninan, HV Patel, AUK Pathan, LA Pomersbach, CA Pujara, RR Rossouw, J Syed Mohammad, S Thiyagarajan, SS Tiwary, R Vinay Kumar, VH Zol
Pune Warriors Team:
SC Ganguly, ER Dwivedi, MJ Clarke, AB Dinda, CJ Ferguson, RV Gomez, Harpreet Singh, DS Jadhav, Kamran Khan, M Kartik, HH Khadiwale, B Kumar, NL McCullum, AP Majumdar, M Manhas, AD Mathews, MD Mishra, AG Murtaza, A Nehra, MK Pandey, WD Parnell, S Rana, JD Ryder, MN Samuels, R Sharma, GC Smith, SPD Smith, Tamim Iqbal, AC Thomas, K Upadhyay, RV Uthappa, SB Wagh, LJ Wright