Mamata to skip crucial meeting on NCTC tomorrow
Kolkata/New Delhi, Sun, 15 Apr 2012
NI Wire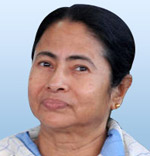 The Trinamool Congress Chief and Chief Minister of West Bengal Mamata Banerjee is likely to skip a crucial meeting on National Counter Terrorism Centre (NCTC), an internal security meeting convened by Home Minister P Chidambaram on Monday, sources say.
The Trinamool Congress Party is one of the key allies of United Progressive Alliance (UPA) government that is against to set up NCTC centres in states along with centre's opponents.
The opposing parties were arguing that by implementing NCTC in states, government was trying to interfere the federal structure of constitution that allows states to vigil their own security.
In this regard, the opponents of NCTC had written a letter to intervene in this matter.
Prime Minister Manmohan Singh in this response assured them stating he would ask Home Minister to convene a meeting with the Chief Ministers of all states to address the grievances.
Following the direction of PM, Home Minister P Chidambaram fixed the date on April 16, 2012 in New Delhi.
Prime Minister Singh will inaugurate tomorrow's meeting and will focus on several issues relating to internal security, cross-border terrorism, and strengthening intelligence capabilities and border and coastal security.
The topics likely to be discussed in the meeting are: infiltration from across the border to Jammu and Kashmir, activities of Pakistan-based terror outfits and insurgency in the Northeast, combating economic offences, especially counterfeit currency notes etc..
A separate session on Left-wing extremism will also be held which is expected to be attended by at least eight chief ministers, barring that of West Bengal.
--With Agencies Inputs--