IPL:RCB ready to fight with R Royals
Bangalore, Sun, 15 Apr 2012
NI Wire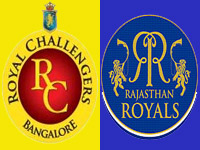 After being defeated in two consecutive matches in the home ground, Rajasthan Royls captain Rahul Dravid has said that his team had defeated two major teams of tournament and it has efficiency to maintain the same pace. He said that the match against RCB is crucial for both the team that is going to be played on late Sunday in Bangalore. This will be the 18th match of the tournament.
Dravid said, "We believe that we got players who can beat any team on a given day. We have a team, which can win us matches as we have shown in the first two games when we had beaten stronger teams like Kolkata Knight Riders (KKR) and Kings XI Punjab."
Asserting Royals had lot of potential to surprise other teams however strong, Dravid said it was exciting to work with a lot of young players and be as much competitive in the tournament to start winning home-away games too.
On the other side this match is very crucial for RCB, as it has lost its two matches out of three.
Rajasthan Royals have won two matches and two lost out of 4 matches whereas RCB has won one and lost two matches.
(With inputs from IANS)