UP CM Akhilesh Yadav today meets PM Manmohan Singh
New Delhi, Sat, 14 Apr 2012
NI Wire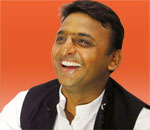 After owning power of Chief Minister of Uttar Pradesh (UP), Akhilesh Yadav today met Prime Minister Manmohan Singh for the first time for discussing over several issues including adequate and quick funding for running various government schemes like MNREGS and NRHM etc..
Akhilesh also discussed to Singh for upcoming Kumbh festival, which needs extra funding and arrangements.
For meeting to Prime Minister, Akhilesh visited to his official residence at 7 Race Course Road and communicate him over half and hour.
According to sources, besides asking financial support in time, he notified to Prime Minister about Ganga cleaning project and Kumbh Mela, which is scheduled to begin from 2013.
Uttar Pradesh Chief Minister Akhilesh Yadav Saturday met Prime Minister Manmohan Singh here and discussed a range of issues with him, including funding for development projects and the Kumbh Mela, sources said.
Akhilesh asked the PM to increase Centre's share in infrastructure development for the religious congregation which receives millions from across the world.
Akhilesh Yadav informed Manmohan Singh that his government had undertaken certain "course corrections" and was trying its best to bring back the state on the track of development and fiscal growth.
Agriculture, he told the prime minister, was a top priority of the Samajwadi Party (SP) government in the state. He asked for support in the power sector, crucial for growth of the agriculture sector.
The chief minister also told Manmohan Singh that the fund the Planning Commission allocated for development of Bundelkhand and Poorvanchal were inadequate and demanded that they be increased, sources said.
Besides, he sought help for fighting the scourge of Japanese encephalitis in seven eastern districts of Uttar Pradesh. After hearing him out, the prime minister assured of all "possible help" to Uttar Pradesh.
--With IANS Inputs--