Earthquake of 8.9 magnitude hits Indonesia
New Delhi, Wed, 11 Apr 2012
NI Wire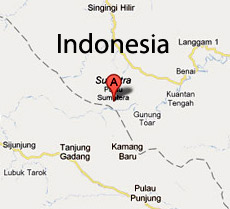 An earthquake of 8.9 magnitudes has hit Indonesia. After which Indonesia has issued a tsunami warning. Besides Indonesia, tremors were also felt in 28 countries. The tremors were also felt in various Indian cities that include Kolkata, Bangalore, Jamshedpur, Ranchi and Patna. The US Geological Survey has said that epicenter of the earthquake was 20 miles (33 kilometers) beneath the ocean floor around 308 miles (495 kilometers) from the provincial capital of Banda Aceh near Sumatra.
The tremors were also felt in Singapore, Thailand and other countries. Besides Indonesia, India too has issued Tsunami alert for eastern coast of India, the Andaman Islands, Andhra Pradesh and Tamil Nadu. After the earthquake India also issued tsunami warning for its coastal areas.

A severe 9.1-magnitude had hit Indonesia on Dec. 26, 2004, that triggered a tsunami in the Indian Ocean that claimed 230,000 lives.