CBI registered a FIR against BEML, Vectra in connection with Tatra Truck deal
New Delhi, Sat, 31 Mar 2012
NI Wire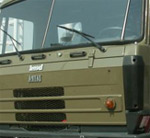 Following the direction of Defence Minister A K Antony, the Central Bureau of Investigation (CBI) on Friday lodged a complaint against some unknown officials of public sector unit BEML, and Ravi Rishi, an Indian origin British Businessman and his company Vectra Group. The investigating agency also raided on some places in Delhi and Bangalore on March 30.
Defence Minister had earlier ordered a CBI probe when Army Chief General V K Singh had alleged that a sum of Rs.14-crore was offered to him in 2010 for sanctioning a purchase of 600 sub-standard Tatra Trucks.
After general's allegation in the irregularities in the deal, uproar occurred in the Parliament and opposition mounted pressure over the government to conduct CBI probe in this regard.
On Friday, CBI registered a case against the supplying company BEML and the middleman Ravi Rishi and his company Vectra Group. After registering the case, CBI conducted raids at various locations in Delhi and Bangalore.
According to sources, separate teams of CBI conducted raids on the offices and residences of BEML in Delhi and Bangalore and confiscated relevant documents and computer hard disks.
CBI also interrogate to Ravinder Rishi on Friday regarding his role in the alleged irregularities in Tatra truck deal.
Rishi has so far refuted allegations, but a leading English daily 'DNA' had published news revealing that a criminal complaint was filled against Ravinder Rishi in the Czech Republic last year in the Tatra matter.
According to published news, it was written in the complaint that Rishi misused his position in the board of Tatra Czech (the original equipment manufacturer (OEM) of Tatra trucks) to enable Tatra Sipox (UK) Ltd, a company Rishi's Vectra Group incorporated in 1994 and now owns, to buy knock down trucks from Tatra Czech at below production cost. Tatra Sipox then sold the trucks to India's BEML at a profit, causing huge losses to Tatra Czech since profits from the sale were being made by Rishi's company.
"I hold for important the fact that TATRA Czech was selling Tatra truck to the British company (Tatra Sipox) margin-free, even at prices below the production costs. The entire margin, or all the profit from the transaction, has been earned by Vectra Limited in the UK," states the complaint.
Former Chief of corruption watchdog Transparency International Vaclav Laska had filled a complaint against Rishi.
-- With Agencies Input --