India to host 4th BRICS summit; Participants eye on trade ties and joints bank
New Delhi, Wed, 28 Mar 2012
NI Wire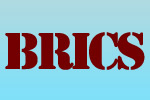 India is ready to host the 4th BRICS (Brazil, Russia, India, China and South Africa) nations summit scheduled to begin from March 29, 2012 with the theme 'Partnership for Stability, Security and Growth'.
BRICS is a turned form of BRIC (Brazil, Russia, India and China) which originates in 2010 after joining South Africa into World's fastest emerging powerful nations.
Top leaders of every participating nations are arriving in Delhi to participate in the 4th edition of conference that is eyeing to enhance cross-nation trade ties, joint development bank and measures to bring stock exchange closer.
Ahead of BRICS summit, Trade Ministers of participating nations is scheduled to convene a meeting the New Delhi on Wednesday for discussing on ways to strengthen economic ties.
India's Commerce and Industry Minister Anand Sharma will meet his counterparts from Brazil Fernando Pimente, Chen Deming from China and Russia's Elvira Nabiullina and Rob Davis from South Africa to explore new areas of cooperation in Trade industry.
It is also expected that BRICS nations are also explore the chances to open a joint development bank.
"There is a large untapped growth potential of intra-BRICS trade and investments which we are presently focusing on for exploitation," Anand Sharma said by adding that BRICS are in advanced stage of reaching a pact for extending cross-country credit in local currencies of the member countries.
Experts belief that a joint bank will be very useful, particularly to Africa, but a major challenge that may come on its way is aligning the interest of the member countries.
The last BRICS summit was held in China in April 2011.
--With Agencies Input--