Anna breaks one-day token fast with warning to bring strong Lokpal before 2014
New Delhi, Sun, 25 Mar 2012
NI Wire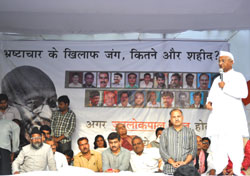 Anti-corruption crusader Anna Hazare on March 25 broke his one-day long token fast with demanding people to let him support in order to keep on pressure over the government so that in intense pressure, government becomes ready to pass strong Lokpal bill in Parliament and to implement it in the system before next general parliamentary election scheduled in 2014.
"Hum baba Ramdev ke saath milkar sarkaar ki naak itni jor se dabange ki sarkar ka munh apne aap khul jaayega, bus aap log dhulakna nahin (We together with Ramdev will put intense pressure over the government so it will nudge the government to fulfil our demand)," Anna Hazare.
Moreover, he also informed that only implementing strong lokpal bill was not our motto but to reform the alleged 'rotten' system by fighting for 'right to reject', to make strong village Panchayat (Gram Sabha) and to improve the poor condition of farmers.
According to police, around 2,000 supporters were at the venue for the anti-corruption mass protest.