Anna Hazare set deadline 2014 for Jan Lokpal bill
New Delhi, Sun, 25 Mar 2012
NI Wire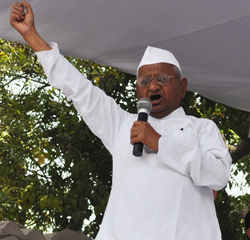 Social activists and anti corruption crusader Anna Hazare has said that govt. will have to bring Jan Lok pal before 2014. He has indicated that he will start his movement with Baba Ramdev and there is not any hesitation for this because both are fighting for the same cause.
Anna said during his one day long fast that Jan Lokpal bill is just a start and a lot has to be done. After this he will be strongly demand for the right to reject bill, which are the remedy for many corruption cases. Gram Sabha also on his target and he will fight for the same. The griming situation of the farmers of the country is also on his list and he will do a lot for the welfare for them.
Farmers of the country are bound to live in the poor situation but other are bound to live a lavish lifestyle. It must be changed and his team will fight for this.
He said that there is a need for new law for land acquisition and permission of Gram sabha has to be taken to give farmer their rights.
Commenting on the Lalloo's statement he said that he is concerned about my health but he should not worry for this. He said that if tainted leaders have not sent to jail by August, then he will start a Jail bharo andolan in the country.
He added that there is a need for big movement and his team will visit across the country and awake the people.
He said that his life is inspired from Mahatma Gandhi and Swami Vivekanand and he never fears for his death. To die for society and country is far better than to die of a heart attack, he added.
He said that he will share with Baba Ramdev who is fighting for black money movement. Both are fighting for the same cause and unity will strengthen us, he addd.