Mukul Roy took oath as a new Rail Minister
New Delhi, Tue, 20 Mar 2012
NI Wire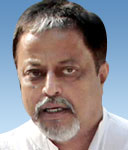 Mukul Roy (57), a 'trusted' person to Trinamool Congress (TMC) Chief Mamata Banerjee Tuesday morning took oath as a new Railway Minister. He was replaced by Dinesh Trivedi, another TMC leader who was forced to leave his post after he made an announcement to hike the railway passengers' fare.
Mukul Roy, a six-year old TMC party member and Secretary of the party, who is at present consecutively second time Rajya Sabha member and Minister of state for Shipping, was sworn today morning as a new Railway Minister. He will reply in the Parliament in late this week regarding presented rail budget by Dinesh Trivedi.
There is also an absolute chance, he may announce to roll back the fare hike charges from general and sleeper class, as it was the expectation of Trinamool Congress Party, which created uproar over this issue.
Earlier, TMC Chief Mamata Banerjee on Monday visited to Delhi and join the Parliamentary meet, where she also invited Dinesh Trivedi.
Banerjee also meet Prime Minister Manmohan Singh yesterday. In their 20 minutes conversation, Mamata conveyed her party's decision that Dinesh Trivedi, who resigned from his post on Sunday, will remain as a party member.
Roy was born on April 17, 1954, to Jugal Nath Roy and Rekha Roy at Kanchrapara, North 24-Parganas, in West Bengal. He is married to Krishna Roy and their only son Subhrangshu is a member of the West Bengal Assembly.
Roy grew up in the mofussil town of Kanchrapara and studied till Higher Secondary, B.Sc (Part 1). He has already served as Ministry of state for Railway Ministry from 20 May 2011 to 11 July 2011.