Being Bihari is now matter of pride: Nitish Kumar
Delhi, Mon, 19 Mar 2012
NI Wire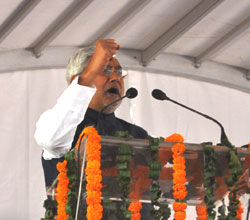 Time has gone when Biharis were being treated as a burden and fact is that today being a Bihari is matter of pride. Bihar CM Mr. Nitish Kumar said during addressing a crowd on the occasion of Bihar Shatabdi Utsav on the completion of 100 years of Bihar statehood in Coronation Park at Burari in Delhi. On the occasion Kumar said that contribution of Biharis can't be ignored in the continuing pace of Delhi and it can be come to standstill if Biharis stop to work here. Event was organised by the member of Bihar Legislative council.
In his speech Nitish Kumar emphasized that there was a time when people of Bihar were bound to hide their identity during their staying in Delhi and Mumbai. But those things have become a part of history and now the scenario has been changed. Today being a Bihari is a matter of pride and there is no need to hide their identity. "High performance ratio of Biharis in competitive examination is enough to prove that there is no match of our boys in terms of intelligence", Kumar said.
During his speech Kumar advised political parties to tread with caution and take a respectful note of multitude of Bihari dominance in social, economic and cultural spheres of Delhi. "For decades Biharis have been treated with disrespect, distrust and disdain. It is time we changed this paradigm. We did and continue to do well here in Delhi and elsewhere. Our contributions in enriching the social, economic, political and cultural lives of Delhi are immense. Neglect of Bihar and Biharis has been a historic fallacy and time has come to correct it now," said Shri Kumar. "We must not forget Bihar gave India its first democracy in Vaishali," he added.
Terming Biharis as an inseparable part of Delhi, Kumar said that if residing Biharis did not work for a day, the city would come to a standstill. On the issue of migration of Biharis Kumar emphasized that Biharis would continue to migrate for Delhi, as this is their right. Delhi is the capital of India and it belongs to everyone. Biharis have their share in the Delhi and they will be continuing to migrate here. People of Bihar are intelligent and hardworking and they have ability to write their fate themselves. "Forget Delhi and Mumbai, if there is an opportunity on the Moon then Biharis will go there for their survival", Kumar added.
On the occasion, Bihar MLC and coordinator for Bihar Shatabdi Utsav Delhi chapter Sanjay Jha said that Delhi is host to a staggering over 4 million Biharis alone out of the significant Poorvanchali chunk of 10 million and holds promise to sway political fortunes of over 100 municipal constituencies. "Contributions of Biharis in the NCR's thriving knowledge economy comprising outsourcing, coaching, education, journalism and services sector are impressive. Many first-generation Biharis have also entered manufacturing and trading businesses," Jha added.