Laborious Biharis knows to write own fate: Nitish Kumar
New Delhi, Mon, 19 Mar 2012
NI Wire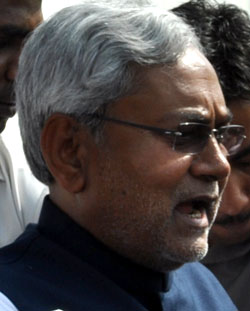 Bihar Chief Minister Nitish Kumar has said that Biharis never known for there begging attitude but they have achieved their goals by their diligence, intelligence and merit. There was a time when being a Bihari was a matter of joke and humiliation in the rest part of the country. But now all these things have become a part of history and today the same Bihari has achieved its identity and pride. Mr. Kumar was addressing a crowd on the occasion of Bihar shatabdi divas programme in Delhi.
On the occasion Nitish Kumar said that Biharis have displayed their diligence and intelligence and made the position not only in the country but also across the country. He said that history says that Biharis were taken to Mauritius for their hardworking attitude where they were forced to work as a labour. But Biharis people turn the mountain land Mauritius in the farm field by their consistent labour and hardworking.
Chief Minister said that Biharis have a special quality that they can make their home anywhere but not on the cost of their traditions and culture. They have made their existence and identity in rest part of the country by their intelligence and labour but they never forget their language, tradition and culture, which is a significance character for the people of Bihar. It can be seen in Mauritious where still Bhojpuri is in use.
Kumar said that now the time has come to change people mindset that Biharis are a burden for Delhi rather they are need for the capital. A laborious and meritorious Bihari can't be a burden for any city and now people should realise the fact.
He said that there is no need to explain the achievement of the meritorious students of Bihar. Whether it is UPSC exams or Railways or IIT or other competitive examinations, still Bihari students are on high demand. He said that in past Bihari students were targeted in Maharashtra and Assam for taking part in competitive examinations, but people should know that if there is a vacancy for a job on moon then Bihari students would not hesitate to go there.