Dinesh Trivedi wants sacking order in written
New Delhi, Sat, 17 Mar 2012
NI Wire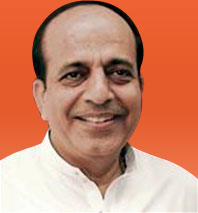 Railway Minister Dinesh Trivedi, who has earned his party's wrath for hiking passenger fares in his first Railway Budget, on Saturday informed to media that if Trinamool Congress wants to sack me, party President Mamata Banerjee should ask her demand in written.
Trivedi's remark came after when he was reportedly asked on phone to leave his post.
According to sources, TMC chief whip Kalyan Banerjee over telephone conversation asked his resignation from the post of railway minister, so that he can make gracious exit instead of sacking from the post.
On the other hand, Trivedi, who is firm on his stand, asked Kalyan to convey party's decision to him (Dinesh) in writing.
The contention between Trivedi and TMC started just after presenting the railway budget in which Trivedi hiked the fare in all classes while Mamata asked him to rollback it as it was against the party's brand image.
If Trivedi wanted to hike the fare, he should increase it in A.C. class only not in general and sleeper class, said Mamata on Wednesday just after tabling the rail budget by Trivedi.
Rail Minister on Saturday still defended his decision of fare hike that came at long gap of nine years viewing its critical requirement.
Two paise per kilometre to thirty paise per kilometre (k.m.) hike is compatible fare hike and if party asks me to roll back the fare hike, then party should also think about rolling back the security measures too, argued Trivedi in responding TMC's demand.
TMC sources are saying that TMC leader and minister of state for shipping Mukul Roy will be replaced to Trivedi after completing Union Budget presentation.