Flak after Railway budget proposal; Mamata asks PM to sack Trivedi
New Delhi/Kolkata, Thu, 15 Mar 2012
NI Wire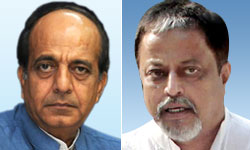 Just after presenting the first Indian Railway budget by Trinamool Congress (TMC) leader and Union Railway Minister Dinesh Trivedi, TMC has created a storm in the centre by demanding to sack its own party leader Trivedi from his post and put a question mark on the fate of presented Rail Budget 2012-13 on Wednesday.
TMC Chief Mamata Banerjee on Wednesday wrote a letter to Prime Minister seeking to sack Trivedi who went against the party's pro-poor image and proposed the name of TMC's Rajya Sabha member and Minister of State for Shipping, Mukul Roy, who has already worked in Rail Ministry, for the next Railway Minister.
According to sources, PM Manmohan Singh has accepted Mamata's demand and may ask Trivedi to leave his post soon. On the other hand, Dinesh Trivedi on Thursday interacting to media has informed that he has got no call from Mamata and he has not submitted his resignation so far.
But, on asking question about his resignation, Dinesh Trivedi has said that he would do what his party asks him to do and won't go against the party's regulation.
"Mamata Banerjee made me a minister. If she gives the slightest hint, I will resign," he said.
Trivedi, a Trinamool Congress MP from Barrackpur in West Bengal took a bold and political suicidal step by increasing the passengers' fare by Rs.0.02 to Rs.0.30 per k.m. in the name of spending this hike on railway safety measure. Railways passenger fare has not increased since 2002.
The opposition on Thursday, is not ready to discuss over the budget, as it is arguing that if Trivedi's proposed budget is not the real budget that there is no mean to waste the time on it.
The media sources also say that Mukul Roy is likely to take oath on Saturday or Monday after Union Budget 2012-13 presentation scheduled on Friday (March 16).