Rail Fare hikes: Mamata Banerjee was not consulted
New Delhi, Wed, 14 Mar 2012
NI Wire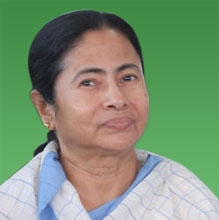 On the rail fare hikes Trianamool Congress Chief, Mamata Banerjee said her party would not accept any increase in railway fares. Ms Banerjee said that she was not consulted by Railway Minister, Dinesh Trivedi, on the issue of fare hike.
The Trinamool Congress MP's has protested the hike in fares and demanded its withdrawal. Trinamool leader Sudipt Bandhopadhyay said that he met rail minister and demanded withdrawal of the hike in fares. He said that the party is against putting burden on the poor. He further said that Railway Minister is from their party only and they have given him time to roll back.
He said that Mr Trivedi has made a hike in fares as a minister but as a party we are against this.
However Dinesh Trivedi has defended his position saying he has increased the rail fares slightly keeping in view the aam aadmi (common man).
Trinamool Congress leader Derek O'Brien has also opposed the hike in fares on social networking site Twitter.
It will be worth watching whether rail minister Dinesh Trivedi is going to withdraw the hike in fares or not.