Rail Budget 2012: Railway minister defends fare hike
New Delhi, Wed, 14 Mar 2012
NI Wire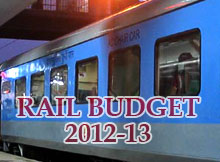 Railway Minister, Dinesh Trivedi after declaring hike in the fares in the Rail Budget 2012 took the full responsibility for the hike and said he has not consulted Trinamool Congress regarding this issue anytime. He also added that, the hike in the areas has been kept nominal keeping in mind the problems of the 'aam admi'.
According to Times Now, TMC leader Mamta Banerjee had asked Dinesh Trivedi to resign from his post of Railway Minister last week. The channel also reported that Banerjee was perhaps aware of the proposed railway fare hike.
On being questioned on the increase in fares he said that the only concern for him at present is safety and the fares has been raised keeping in mind expenditure incurred on security and other amenities to passengers.
The lading opposition party BJP blamed the Railway Minister and termed the Rail Budget to be 'anti-aam aadmi'.
On announcing the fare hike for passengers Trinamool Congress chief and West Bengal chief minister Mamata Banerjee, opposed the fare hike that can affect the average travellers and demanded a roll back.