The Union Budget 2012-2013 to be presented on 16th of March
New Delhi, Mon, 12 Mar 2012
NI Wire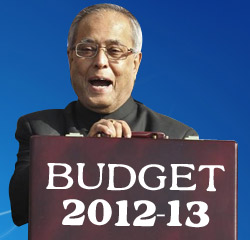 The Union Budget 2012-2013 will be presented on 16th of March as per the decision of the cabinet committee on parliamentary affairs headed by the Finance Minister, Pranab Mukherjee. The Union Budget 2012-2013, which was earlier to be held on the last week of February, was postponed to 16th March 2012 due to the Assembly elections in UP, Manipur, Uttaranchal and Punjab.
With Congress under pressure with the results of the recent assembly polls, it will be a tough time for them to answer the questions on issues like federalism to the opposition leaders, which is most likely to arise in this session.
In addition to that, Trinamool leader Mamata Banerjee has also joined hands with non-Congress chief ministers for opposing the proposed National Counter Terrorism Centre (NCTC). Issues like "anti-farmer" move of banning cotton exports, pension bill, Lokayukta provision in Lokpal and allowing FDI in retail are likely to be raised during the session by the opposition leaders.
The Union Budget 2012-13 will be presented on March 16, four days after Parliament begins its Budget session with the address of President Pratibha Patil to the joint sitting of the Lok Sabha and the Rajya Sabha. This will be the last such address of President Pratibha Patil as she will retire in July this year.
The rail budget will be presented on March 14, while the Economic Survey will be presented on March 15.
The first phase of this Budget session is expected to conclude on March 30 and the second session will start after three weeks from the end of first phase from April 24 during which Parliamentary Standing Committees will calculate the proposals of different ministries.
The session is likely to conclude on May 22.