Social networking sites must work within laws: Sachin Pilot
Bangalore/New Delhi, Tue, 07 Feb 2012
NI Wire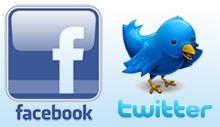 Search engine giant google and social networking sites like Facebook should work as per the Indian law, said Sachin Pilot, the Minister for State, Ministry of Information Technology and Telecommunications on Tuesday while talking to mediapersons on the sidelines of India Semiconductor Association (ISA) Vision Summit 2012 in Bangalore.
Commenting over the row of controversial contents of the Indian politicians and images of gods and goddess in these social networking sites, Pilot said, "Whether it's a social media website company or any company, for that matter they all have to operate within the laws of the country and what we have said is that there must be responsible behaviour on both the sides. While we believe that the court is of course within its right to make sure that the companies that operate in India have to work within the laws."
The case has raised fears of censorship in India.
Meanwhile, a lower court in New Delhi Monday has asked companies in written, 'What the measures have they taken in order to block offensive content?' and ordered to submit reports in the court within 15 days.
Meanwhile in New Delhi, Santosh Pandey, advocate of petitioner Mufti Aijaz Arshad Qasmi had filled a Public Interest Litigation (PIL) in the district court of New Delhi seeking to quash the objectionable contents available on the internet that hurts social and religious sentiments of the public.
The lower court in hearing of this case had ordered to
22 social networking websites to file their compliance report on blocking objectionable contents within 15 days.
"Today, the lower court has ordered to file the WS (written statement) by the opposite parties of Facebook, Google etc and it was a clear-cut order placed by the court which has directed them that they have to file their WS within 15 days from today," Pandey said.
Previous year, Telecom Minister Kapil Sibal had requested officials from Facebook, Google, Yahoo and Twitter to remove offensive content from their websites.
This remark invited a flurry of criticism from the Internet users who smelled censorship of the websites.
The number of Internet users in India is less than 10 percent of its populations, but still India is third-biggest Internet market after China and the United States. The number of Internet users in India is supposed to increase three times in the next three years.
In spite of the new regulations to block objectionable content, India's Internet access is still largely uncensored, as compared to the stringent censorship in neighboring China.
--With inputs from ANI