Amir Khan sightseeing in Bolton with American fiancee
London, Mon, 06 Feb 2012
NI Wire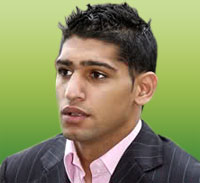 London, Feb 6: British Olympic boxing medallist Amir Khan recently made a tour of hometown Bolton, England along with his fiancee Faryal Makhdoom.
In previous month, Makhdoom took him around her native place in New York.
The couple was photographed beside Big Apple landmarks like the Statue of Liberty.
The couple also visited the gym Amir goes to, where she gave a knockout performance in the ring.
Makhdoom was left reeling when they braved the snow to take in Bolton's bus depot, the Sun reported.
"No wonder she can't wait to move here!" Amir said.
The ex- WBA and IBF light welterweight champion took his 20-year-old fiancee to lunch at his admired chip shop followed by a romantic stroll around the playground at nearby Queen's Park.
In New York, Amir was surprised by the views from the top of the Rockefeller Center. Makhdoom had to remain content with the views from the steps of Bolton Town Hall.
But Olympic boxing medallist scored at the Reebok Stadium, home to his heroes Bolton Wanderers and the venue of the couple's engagement party.
"We had our party in a suite here, it was incredible. After, we spent a few days in London but I was determined to show Faryal the sights of Bolton before she left. Now she's buzzing about the place!" Khan said.
The couple, which had a whirlwind romance since they meet last July, is looking forward to meet again next month.
"I've had a lovely time and the people in Bolton are great fun," Makhdoom added.
"I'm ready to go home but one day this will be home," she said.
--With inputs from ANI