All India Strike: Delhi invokes ESMA on power companies
New Delhi, Tue, 28 Feb 2012
NI Wire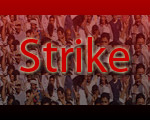 In order to ensure the uninterrupted power supply in the capital, Delhi Government on Monday announced to impose Essential Services Maintenance Act (ESMA) on all power companies including power generation, transmission and distribution. This order came in the view of Tuesday's nation-wide strike called by a number of trade unions, Bank employee unions and transporters' unions.
Issuing a statement to power companies, Delhi Government has ordered to impose ESMA on all power companies till next six months.
Millions of workers from various trade unions and organizations have called a nation wide strike in responding to continuous soaring prices of essential commodities, and government's 'anti-labour' policy.
This strike is also supported by political parties including incumbent Congress, and supporting parties in UPA alliance. Opposition Bhartiya Janta Party (BJP) and its alliance are reportedly trying hard to make huge successful to this strike viewing the current assembly elections in five states including Uttar Pradesh, the most populous state of India.
In the capital, the employees of Reserve Bank of India, the state run telephone company, bus drivers and postal workers are reportedly participating in the strike, which has partially affected the lifeline of Delhi.
Several commuters in Railway stations, Bus Stands have stranded due to lack of conveyances as some auto rickshaws have also joined the strike.
However, the reports of severe lifeline affects are coming from West Bengal and Kerala despite government's warning.
Four flights in Netaji Subhash Chandra Bose International airports have been cancelled and some local trains remained stranded in some railway stations in West Bengal.
The Chief Minister Mamata Banerjee however has warned to the government employees to take strict actions if anyone joins in alleged 'left bound' strike.
Similar, in Kerala, state Chief Minister Oommen Chandy has issued notices citing 'No work, no pay' to the state government employees and has also warned that ad-hoc and temporary employees will lose their contract if they are found absent from their duty.
Banking system across the country has also reported partially affected so far due to joining the state run banks employees and RBI's employees. Some banks are facing 'cheque clearance' problem due to lack of employees.
Tuesday strike is an alarm for the ruling UPA government which is continuously failing to curb inflation, higher interest rate and decreasing growth rate, said a union leader to media.
The ruling party's trade union, Indian National Trade Union Congress has also threatened the government that it would go to further level of action if government does not pay attention and accept our demands.
Besides the Left unions like the Centre of Indian Trade Unions and All India Trade Union Congress and the Hind Mazdoor Sabha, the pro-Congress Indian National Trade Union Congress and the pro-Bharatiya Janata Party Bhartiya Mazdoor Sangh are also supporting the strike.
The key demands of the unions include guarantee of labour rights, end to the contract labour system, bringing workers in the unorganised sector under the social security net and pension benefit for all workers.
UPA government has faced a slew of protests since winning a second term in 2009. Today's strike is the 14th general strike since India opened up its economy with major reforms in 1991.
--With Agencies Input