Baba Ramdev may face legal action for his claims to cure Cancer, HIV: reports
New Delhi, Fri, 24 Feb 2012
NI Wire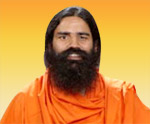 India's one of the most renowned Yog Guru Baba Ramdev may likely to face some legal action soon, as per media reports say due to his alleged claim of curing some certain diseases including cancer and HIV.
According to media reports, few days ago state medical councils have convened a meeting in New Delhi, and decided to be united against quackeries including Baba Ramdev who promise to cure some of the deadliest diseases, which lacks scientific evidence with their decoctions and Yog exercises.
The councils have a resolution asking the Drug Controller General of India, the sole body liable for taking legal action against any pharmaceutical company and quackery, to book all those who promise to cure diseases under the Drugs and Magic Remedies. (Objectionable Advertisements) Act, 1954.
The Drugs and Magic Remedies. (Objectionable Advertisements) Act, 1954 aims "to prohibit the advertisement for certain purposes of remedies alleged to possess magic qualities and to provide for matters connected therewith."
It was noted in the meeting that the menace of quackeries are going on and empiricism including Baba Ramdev claims to cure all the diseases listed in the act.
The Indian Council of Medical Research had issued a warning earlier after a government servant died following consumption of excessive lauki (bitter gourd) juice. Later, an expert panel set up by the Indian Council of Medical Research had warned people against consuming this juice.
Delhi Medical Council has convened a two-day seminar in capital for discussing over the issue of common interest, including ethics in medical practice and quackery. The representatives of 22 state medical councils have participated in the meeting.
It was suggested in the seminar that there should be stricter provision of punishment for those who practice medicine without any qualified degrees recognized the Indian Medical Council Act.
Under the law, those not trained in one system of medicine are not supposed to practice any other system of medicine.
Ramdev has been promoting cancer cure through television programmes and a video titled 'Yog cancer ke liye', being sold through his website.
Moreover, it was also decided in the meeting that a legal action should be made against Jatin Chaudhry, who claims to be the physiotherapist of cricketer Yuvraj Singh for his alleged using of Dr prefix.
According to a health ministry directive of 2003, an eligible medical practioners can only prescribe medicine only that stream in which he/she has qualified. It means allopathic medical practioners can prescribe only allopathic medicines only while ayurvedic, unani and other recognised Indian systems of medicine can prescribe medicine relevant to their stream.