Team Anna election campaign to start from Haridwar
Dehra Dun, Thu, 19 Jan 2012
NI Wire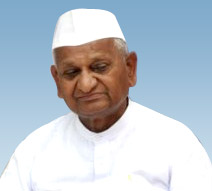 Dehra Dun, January 19, 2012: Team Anna will begin its campaign in five poll-bound states from northern Indian state of Uttarakhand from January 21. The team will start its campaign from Haridwar. The campaign will be focused on issues like strong Lokpal bill, corruption and other issues like caste and religion. The team will also visit the cities like Dehradun, Rudrapur, Almora and Haldwani keeping in view the upcoming Assembly polls in Uttarakhand.
The team is scheduled to visit Srinagar on January 24 and some other parts of the state on January 27 and 28. Members of the core team Arvind Kejriwal(former IRS), Kiran Bedi(former IPS) and Kumar Vishwas will be part of the campaign.
The team will visit all the five states going to Assembly polls shortly, said Manish Sisodia, team Anna's core member.
He refused canvassing against the Congress.
"We will not campaign against any political party instead create awareness among voters against corruption and candidates with tainted track record," Sisodia was quoted as saying.
He said that the time is right for educating the voters to make good use of their precious votes to select the right candidates with a clean image, good education and an inclination of serving people.
He praised chief minister of Uttarkhand B.C. Khanduri for passing the Lokayukta Bill that is very similar to Lokpal Bill, formulated by team Anna.
However, Congress has strongly criticized Team Anna saying the campaign is politically motivated and designed to help to benefit BJP.
"The visit is surely designed to benefit BJP," Surendra Kumar, Congress spokesman, said.
However BJP has welcomed of Team Anna saying all are free to voice their views in the democratic setup of the country.