Suresh Kalmadi released on bail
New Delhi, Thu, 19 Jan 2012
NI Wire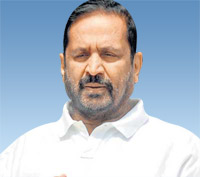 Former CWG Organising Committee chairman Suresh Kalmadi was granted bail after spending nine months in jail. Director general of Commonwealth games and co-accused VK Verma was also granted bail.
Delhi High Court granted bail to both of them on the bail bond of Rs 5 lakhs and two sureties.
Justice Gupta said, "There is no allegation that the petitioners are likely to flee from justice and will not be available for the trial."
While allowing their plea for bail, which cited Supreme Court's judgement in 2G-spectrum case wherein it was held that "bail is rule and jail is exception", Justice Gupta said, "There is no allegation of money trail to the petitioners.
The Central Bureau of Investigation were said to be staunchly opposing the bail of both the accused.
Kalmadi was arrested on April 26, 2011 for his alleged role in awarding the contract for installing the Timing-Scoring-Result system to Swiss Times Omega at a huge cost of Rs 141 crore.
Kalmadi was charged under various sections of Indian Penal Code for cheating and fraud. He was arrested under the Prevention of Corruption Act.