Nokia Lumia 710 to be Released in UK on 1ST February
London, Mon, 16 Jan 2012
NI Wire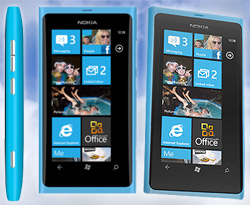 There is good news for those waiting for cheaper Nokia Windows Phone, as Nokia has announced to launch it under the brand name Nokia Lumia 710. This new phone will be issued in UK on the 1st February 2012.
As per reports from Nokia the handset will be available in 6 different colors. Both Three as well as Orange have confirmed to offer this handset but prices are not confirmed yet. T-Mobile and Vodafone are expected to have stocks of this soon-to-be-released gadget.
Other brand from Lumia family, Nokia Lumia 800 is now available in Switzerland on MobileZone. This gadget will be available in all three colors.
As per reports Nokia Lumia 710 and 800 will make entry in Australia, probably at the same time as Australia's South Eastern neighbors
Nokia Lumia 710 has a 3.7-inch screen at par with Lumia 800's. This new phone comes with a 5-megapixel camera. Lumia 710 uses a 1.4GHz Qualcomm processor and has 8GB internal storage capacity. This upcoming gadget uses Windows Phone 7.5 software and offers quick access to Facebook and Twitter. The users can download apps from Windows Phone Marketplace, and even personalize it as per their preferences.