Lalit Modi wins 'CNBC AWAAZ Consumer Awards 2008'
Mumbai, Mon, 29 Sep 2008
NI Wire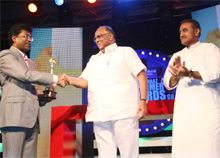 Lalit Modi bags an award for Transforming Cricket in India at 'CNBC AWAAZ Consumer Awards 2008'. India 's largest consumer study executed by The Nielsen Company awards the most preferred brands in the country. CNBC AWAAZ Consumer study is the voice of around 10,000 respondents from 21 cities and 84 rural centres.
The vote is out on the brands that India prefers most. The winning brands were awarded at the CNBC AWAAZ Consumer Awards 2008 at a felicitation ceremony held in Mumbai. The ceremony was presided over by esteemed luminaries like Sharad Pawar - Hon. Minister of Consumer Affairs & Public Distribution, Praful Patel - Hon. Minister of State for Civil Aviation, Mr. Vaidyanathan - Executive Director, ICICI Bank.
Leading research organisation 'The Nielsen Company' conducted the research spanning 17 product and service categories across the country in 21 cities and 84 rural centres, with around 10,000 respondents covering all strata of society - voicing their opinion about their most preferred brands.
Being the fourth year of CNBC AWAAZ Consumer Awards, three special categories were introduced this year and the winners were selected through a poll conducted by the channel and a panel of esteemed jury.
• Entertainment Brand Ambassador of the Year - Akshay Kumar
• For Transforming Cricket in India - Lalit Modi
• Hall of Fame - BSNL
Indian Premier League has established itself as a successful brand through its first season, in terms of television viewership, spectators and sponsorship. CNBC AWAAZ recognized the contribution made by Mr. Lalit Modi to the field of cricket and felicitated him with a special award for transforming cricket in India at the 'CNBC AWAAZ Consumer Awards 2008'.
While speaking at the occasion Mr. Sharad Pawar, Hon Minister Consumer Affairs and Public Distribution mentioned that common man is becoming increasingly aware of the brands at their disposal. India is one of the very few countries that have consumer protection law. He also added by saying that 86% of the cases in consumer courts are resolved within 6 months. While speaking on the success of IPL he said that IPL is one of the strongest Indian brands that India has in the world. On a lighter side he quipped that he doesn't know who has become a bigger brand, IPL or Lalit Modi.
While receiving the award Mr. Lalit Modi mentioned that the idea of IPL was with the BCCI for many years but it was put on the back burner till Mr Sharad Pawar took the initiative of building cricket in India as a brand.
Keeping the brand perspective in mind, most companies have now started exploring lucrative opportunities in rural market and are making their brands available in these areas, as trends indicate that these rural markets are coming up in a big way and growing twice as fast as the urban ones. However, to tap these markets, the companies must communicate with their audiences in Hindi as it happens to be a major driving force for mass communication.
CNBC AWAAZ, India 's No.1 Business Channel has been a pioneer in the Hindi business and consumer channel segment and has always captured the pulse of the market. Hindi as a language is witnessing increasing attention from advertisers. This phenomenon was discussed at an interactive session at 'CNBC AWAAZ Consumer Awards 2008'. Another discussion that gained a lot of audience participation was about consumer perspective on 'Brand India'. The discussions were hosted by the dynamic duo of Anuradha Sen Gupta - editor-anchor of CNBC-TV18's flagship feature show "Storyboard" and Prasoon Joshi - Chairman (Asia Pacific) - McCann-Erickson.
Commenting on the CNBC AWAAZ Consumer Awards, Mr. Neel Chowdhury, Vice President, Marketing CNBC-TV18 and CNBC AWAAZ said: "The marketers who understand the rural consumer and fine tune their strategy are sure to reap benefits in the coming years. In fact, the leadership in any product or service is linked to leadership in rural India . That is why CNBC AWAAZ Consumer Awards laid special emphasis on rural areas, with a quest to figure out India 's most preferred brands. Over the years CNBC AWAAZ continues to be the Voice of the Indian Consumer by adding new insights to its awards every year".
The winning brands in various categories for the 'CNBC AWAAZ Consumer Awards 2008'are:
Category & Winners
ER DURABLES Most Preferred White Goods Brand - LG Most Preferred Consumer Electronics Brand - LG
TELECOM Most Preferred Cellular Service Provider -Airtel Most Preferred Handset Provider - Nokia
FMCG Most Preferred Personal Care Brand - HUL Most Preferred Food & Beverage Brand - Parle Most Preferred Home Care Brand - HUL
FINANCIAL SERVICES Most Preferred Bank -State Bank of India Most Preferred Life Insurance Policy - Life Insurance Corporation Of India Most Preferred Credit Cards - ICICI Bank Credit Cards Most Preferred Housing Loan - SBI Home Loans Most Preferred Auto Loan - ICICI Bank Car Loans
RETAIL Most Preferred Multi Brand Food Retail Chain - Big Bazaar Most Preferred Fast Food and Beverage Chain - Café Coffee Day Most Preferred Lifestyle Brand - Tanishq
AUTOMOBILES Most Preferred Car Brand - Maruti Most Preferred Two Wheelers Brand - Hero Honda
About CNBC AWAAZ:
CNBC AWAAZ is India 's No1 Business channel. The channel reaches out to India 's affluent Hindi speaking consumers and is a credible source for timely information on intelligent investing, saving, spending decisions, as well as the latest career opportunities. The CNBC AWAAZ editorial team brings with them more than 19 years of experience each and a nation wide network spanning more than 49 cities. The reporting team is backed by a strong research set up, the first of its kind in India that specializes in research including consumer research, commodity markets, small business related information and stock markets.
For more information please contact:
Saroja Shankaran / Amanda Mendonza, 9833635757 / 9833618458, Hanmer MS&L Communications Pvt Ltd.