One World or Two?
Preeti Chauhan, Tue, 25 Sep 2007
NI Wire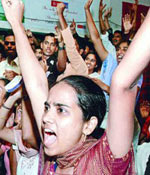 Sep 25: The recent incident of the molestation with the Indraprastha college students by some aspiring policemen and what happened thereafter is just one of the many manifestations how insecure the women are in this society. The incident also brings to fore the perturbed presumptions that north Indian men carry for girls from north-east who don't belong and confirm to the hegemonic north Indian patriarchal sensibilities.
The behaviour of the police that very day and thereafter with the girls on dharna at the VC office shows the urgent need to have a massive drive of change, making gender sensitization, a must in police training .The police personnel present at the VC office said 'don't you have anything else to do, why are you making such a hue and cry over this issue'. It was the women constables who used filthy language for the girls at dharna and didn't even hesitate to beat them up when they tried to enter the VC office.
Now comes the news that security has been beefed up in and around the campus with more policemen/women around. Can girls ever feel secure with not only policemen but also the women being so callous about issues of gender justice? When the mindsets remain the same, how can the increased presence of police make any girl feel secure? Infact the police women are not to be blamed as it is the masculine logic of police services and the hegemonic power of patriarchy that makes them behave the way they did.
Eve-teasing is neither a new nor an unknown issue for the university and every time the beaten track is followed which is of increasing the police presence in the campus as if it's a time tested formula to tackle the problem, though it really is a time tested formula to fool around people and escape asking some difficult questions. The IP incident and other such incidents like some men following and passing lewd comments on a 22 year old girl in full public view in broad daylight are just but some of the examples to the level this malaise has reached with women being told always to keep mum and carry on with their work, accepting such things in their routine and thereby normalizing and legitimizing such behavior.
It's not only shameful but just outrageous that these kinds of things are happening right in the heart of the capital of India! Isn't these the heights of patriarchal audacity that some men can now dare to harass a women even in a crowded place and we were told it happened only to women travelling late at night and all alone so to blame them of being so careless and asking for troubles themselves!
That defense or should one say accusation was always flawed, doesn't need to be reiterated once more but what needs to be repeated is that how long can we run away from answering the real questions? How long can we keep on believing that police presence provides security? How long will we keep on telling the other half of the population to keep living under fear? How long will the girls of this country be asked to experience the same world differently?
Now this is not the question of the university only. There are other questions coming in mind Why can't a girl come and go safely late at night? Whose failure is this? Of girls ? they are not able to keep themselves safe, of the system? They are not able to provide them an atmosphere where they could live without any fear and bloom into full, or the counter part of women have failed to respect them and failed to change their mental set- up.