Ajay Goyal appeals to EC against C'garh Press Club
Chandigarh, Tue, 12 May 2009
NI Wire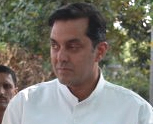 Ajay Goyal, Chandigarh Independent candidate, has lodged a complaint with Naveen B Chawala, Chief Election Commissioner of India, against the Chandigarh Press club for not giving equal opportunity to all Independents at a platform for electioneering to all contestants.
As per a report published in Chandigarh Tribune, eight Independents gathered at the Press Club to lodge their protest, as the Club only invited three candidates to a debate held on Monday.
Answering to a query why the Club not invited all candidates to the debate, Sarbjeet Pandher, president of the Club, said: "The club is not a platform to give fillip to the campaign of any candidate. Three main contenders were called as per the Election Commission guidelines."
"Moreover, it was not feasible to accommodate all candidates for a debate. Only one candidate, Ajay Goyal, approached us, but by then everything had been finalised and the programme could not be changed," Pandher further added.
Goyal in his complaint to the Election Commission said despite their assertion that in a democratic process all candidates are equal; the governing council of press club only invited three.
With the present episode, it is obvious that the club, public funded organisation was prejudiced in favour of certain candidates, he added.
"I request the Election Commission to look into the matter whether a public supported and/or funded body has the right to conduct partisan politics during an election campaign," said Goyal.