Nepal: Preserving constitutional politics
New Delhi, Wed, 06 May 2009
Deepak Mohanty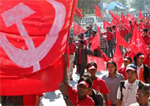 Barely a year after becoming a republic – a result of long people's struggle to overthrow the 240-year-old monarchy – the Himalayan nation Nepal is again landed on the stage of serious political crisis when the Maoist Prime Minister Pushpa Kamal Dahal, best known as Prachanda, resigned over a differing opinion with the President Ram Baran Yadav to sack the army chief.
Prachanda sacked the Army Chief Rookmangud Katawal for not allowing the admission of Maoist guerrillas in the National Army. But the army head was soon reinstated by the President. The unilateral decision was not only opposed by the opposition but by the ruling collation partners, including the Maoist ally the Communist Party of Nepal-Unified Marxist Leninist (CPN-UML) who too withdrew support from the Maoist government.
Meanwhile, the situation remained simmering when major parties are meeting to reach some kind of consensus in forming a new government. But without the inclusion of Maoists who ruled the democratic nation for the first nine months with parliamentary majority (if not absolute) would push the nation further into days of doubt on the peace accord.
Nepal President has set a Saturday deadline for the formation of a consensus government, and it is likely that UML might announce its prime minister candidate in the next couple of days. But for the Maoists, it's no way feasible for them to loose the immense political points they had put on while in mainstream and back to the old violent tactic. They are at least in a situation where they can easily influence the future political development.
The next government would seek Maoists' active participation or as opposition for writing the new constitution. Although Prachanda has assured his commitment to peace, it's not clear how the present Maoist leadership would react to the imminent political course when they won't be in power to press on their demand to include the 19,000 odd former Maoist fighters in the army. That to every possibility would be delayed further.
Maoists have come to the streets against the move of President that left enough signal that without the Maoists, peace is no way near. But in democracy, there should be nothing prejudiced, but collective and cooperative. Maoists who were once a violent group under the leadership of Prachanda, is now a political force and if they want real change, real transformation in the lives of commoners – oppressed and exploited – they need to understand the democratic principle.
The army too need to respect the diversity in Nepal's civilian rule coming out of the monarchical outlook. But all lie ahead with political consensus and greater accountability to facilitate an inclusive democracy. If not in government, Maoists too has a larger role to play while seating in opposition and there is no point to abandon constitutional politics.