Debate shifted over Ram from Ram Sethu
New Delhi, Sat, 15 Sep 2007
NI Wire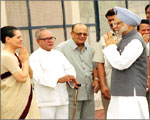 Sep 15: The UPA government at the centre has withdrawn its affidavits in Supreme Court on Sethusamudram Project .Centre has asked three months time for filing another affidavit.
The Sethusamudram Shipping Canal Project proposes dredging of Adam Bridge to reduce the distance between east and west coast. Conceived in 1860 by Alfred Dundas Taylor, it was revived during NDA regime and again after several reports UPA finally announced the inauguration of this project.
A Bench headed by Chief Justice K G Balkrishnan, said that the August 31 interim order putting on hold the construction in Rama Setu area will continue.
The Additional Solicitor General Gopal Subramanium said that UPA would examine the entire project afresh, keeping in mind alternative suggestion in three month time.
"I have taken instructions from the Government at the highest level," Additional Solicitor General Gopal Subramaniam told the Bench which included Justice R V Raveendran.
Congress is facing lot of opposition from its supporters for back-tracking, the DMK supremo Karunanidhi said,``We care more for self respect than for the government" and categorically stated that the Centre's decision to eliminate crucial aspects of the affidavit that questioned the existence of Lord Rama could not be accepted.
Karunanidhi added, `` we were brought up in the ways of Periyar and his principles of self respect", and quoted former Prime Minister Jawaharlal Nehru as saying, ``Lord Rama was only a fictional character in a dramatized Aryan- Dravidian struggle."
Two ASI official Bakshi and Chandrashekhar were suspended following the enquiry conducted by ASI Director-General A. Vaish, One of the officer was at Director Level dealing with the matter on behalf of central government, while other was responsible for amending the final draft of the affidavit.
An enquiry was ordered and approved by the secretary of the Union Culture Ministry Ambika Soni.
Sonia Gandi intervened to stop the further damage due to the affidavit, which said that there is no historical evidence to support that Ram existed.
The decision came when Oppossition condemned Congress and asked for apology for disputing Ram's historicity.
Debate over Ram Sethu: Natural or Man made?
The survey conducted by Geological survey of India said the Sethu was a natural one, some studies claimed that carbon dating roughly matches the Epic of Ramayana and the formation of bridge and it is a result of long shore drifting current.
NASA too has clarified that it is a natural formation, earlier some website came out with the claim that NASA has supported with the studies that it is man made.
While Dr. Badrinarayanan former director of Geological Survey of India said that it is not a natural formation and said, "Such a natural formation is impossible. Unless somebody has transported them and dumped them there, those reefs could not have come there. Some boulders were so light that they could float on water."
Environmental organizations and NGO's such as MANITHAM India, Eco Law, EFL, Green Peace movement are have taken the initiatives to know the impacts of the Sethusamudram canal projects.
It was appealed to UN secretary by Manitham in 2005 "...the Sethusamudram Ship Canal Project (SSCP), will undoubtedly change the face of the earth in two countries and might exacerbate the possibility of sudden natural disasters such as Tsunamis, Tidal waves or Cyclones.
"We Manitham working for promoting human rights and protecting environment, feel that this is a mega project and want to ascertain whether in constructing the canal there would be any geological, oceanographic and environmental changes, as well as any land subsidence. Therefore, we decided to fully explore independently, the environmental impact due to SSCP".
Asian Development Bank had urged to preserve the legendary Ram Sethu as it acted as barrier during tsunami.
Many environmentalists says that dredging of the canal may bring natural disaster, tidal waves, and cyclone also that where this dredged material will be disposed of.
There may be other side effects such as rise in temperature and marine pollution.
Issue on Ram's existence?
There is no history to support Ram's existence but can the evidence bring the impact and negate his presence on the peoples mind that believe Ram as a part of their life.
But some body will get benefits. It is again the crufty ,vulpine politician who will play the game and bring the nation to a jolt.
Again a rift will be created between majority and minorities… by giving it communal colour.
Who will suffer a common man….who wants basic amenities and facilities to live a decent life…
Have we ever heard of a politician dying in the process that takes up such issues and inflate it unproportionately and incite people to go uncontrolled…
No…
As Hurriyat who turn up against the government and asked that it has no right to question or interfere with their religious heritage …. or cast aspersions on the religious believes or shrines of millions of devout as " FAITH NEEDS NO PROOF!"
Let's see if this issue will be kept away from the politics of religion.
Common people should not let this politician to encash on this issue.