Odissi: The glorious heritage of Orissa
Delhi, Tue, 03 Apr 2007
Deepak Mohanty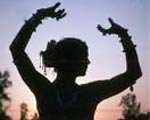 Dance is one of the earliest forms of communication, prior to the emergence of languages through gestures and body movements. In Indian culture, especially and according to Hindu traditions, dance has often been associated with Gods and Goddesses, and has been used to depict love and devotion for them. Dancers use their head, eyes, legs, foot and primarily rhythmic body movements to express certain moods and emotions.
Odissi, emerging from the Indian state Orissa, is considered as a classical dance and one of the primitive forms based on archaeological evidences. The cultural heritage of Orissa, which encompasses the temple and the sculptures of the Lord Jagannath Temple (Puri), the Sun Temple (Konark) and the Lingaraj Temple (Bhubaneswar), show the existence of Odissi dance as early as 2000 BC. This dance form depicts the philosophy attributed to the popular Jagannath cult, which from a long time served as prime research topics for academicians.
Odissi was earlier a part of daily religious rituals in the temples and was performed only by female dancers known as Devadasis or Maharis. These dancers were trained by dance teachers or Gurus, and the pupils had to spend the rest of their lives dancing for the pleasure of Lord Jagannath. During British rule, this dance form was slowly diminishing with the abolition of Maharis, which later forced dancers to perform in public for continuing this tradition.
The modern Odissi has gone through a process of revival with culmination of different traditional dance forms. Male dancers, who started practicing Odissi individually and in groups came to be known as Gotipuas. After Independence, some eminent dancers like Pankaj Charan Dash, Mahadev Rout, Hare Krishna Behera, Kelucharan Mahapatra and some others took the responsibility of keeping this tradition alive. They traveled to many countries to teach and propagate this unique dance.
Odissi is known for its characteristics body posters, bending body parts or bhangis, most popular being the Tribhangis, mudras and the music composed to compliment lyrics that represent poetry in both Oriya and Sanskrit. The theme of the dance comprises of mythological stories and primarily revolves around the epic characters Radha and Krishna.
This ancient temple dance is now one of the elegant classical dance forms, which attracts tourists from different parts of the world, to study and learn the heritage of Kalinga (Orissa). However, its originality has always been a controversy for the mentors and the followers of true Oriyan culture.
As the dance is vibrant, like a living being, it is difficult to maintain its true form without a composite effort of those respected Gurus and emerging dancers. It needs a strong guideline that can be followed by all dance schools and academies, allover the country.
This graceful art is also one of the tools used to promote tourism in the state, which can also be seen in the Annual Konark Dance Festival held every year in the month of December on the open air auditorium, held with the beautiful backdrop of Sun Temple. This beautiful and lyrical dance really mesmerizes the audience by appealing their imagination. Not only Odissi but all classical dance forms should be preserved and propagated in their original forms.