Awareness need for sustainable development
New Delhi, Thu, 23 Aug 2007
Deepak Mohanty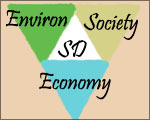 Aug 23: These days, political leaders of every country in their discussion make it a point to address their concern for the environmental crisis and energy shortage, which is also an effort of world bodies to make all nations to build a mechanism for sustainable development. The definition of sustainable development signifies to meet the needs of the present at the same time with no compromise on the part of future generation as far as resources are concerned. It becomes important for all of us to understand the principles and values of the whole concept.
With the ever increasing economic growth our biodiversity is facing tremendous challenge to meet the demands of rising population. Destruction of ecosystem with increasing economic growth can be seen all over the world with the extinction of thousands of species, degradation of agricultural land, extreme climatic changes that alarm shrinking of biodiversity of our planet.
UNESCO in the year 2002 set a goal as the United Nations Decade of Education for Sustainable Development (2005-2014) and enhanced its effort to compel governments to observe all aspects of sustainable development in order to create awareness that can certainly be a great step for a sustainable future with equitable growth without causing much damage to the natural environment. However, this mission so far has not seen much positive outcome as far as India is concerned. There is much to do in the quality of education with all notions of sustainable development.
However as the socio-economic and cultural needs differ from region to region, it's a tough task to implement a common minimum programme. So UNESCO with the Agenda 21 addresses four majors in terms of improvement in basic education, re-orientation of educational curriculum, develop awareness and proper training to all sectors with in conception of a sustainable development.
Taking an example of the tourism sector it becomes necessary to protect environmental and cultural features that are the source of income. Again instead of concentrating on infrastructure development in the particular sector it is important to utilize the existing ones to protect the natural environment.
The government of India is also an active member of United Nations Environment Programme (UNEP), South Asia Cooperative Environment Programme and various other environmental organisations. However, it somehow has not done anything impressive as far as education policy is concerned. Again though government is funding for eco-regeneration in all states but that goes vague due to the lack of participation of civil society.
As today most of the people of rural areas rely on agriculture and forest resources it is important first to create alternative means of livelihood so that they can cooperate in the process of forestation. So the time is to improve quality of our education with more vocational training and at the same time appropriate subjects that can address ecological concerns in building an equal society for present and future generations.
In fact it's a combine effort of government, non-government organisations, mass media, educational institutions, private bodies and above all the participation of civil society. However, as an individual we also need to take our own steps forward to make our contribution to save our planet.