Kannagi's statue adorned Marina Beach
New Delhi, Thu, 23 Aug 2007
Binita Tiwari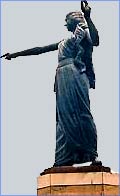 Aug 23: Statue of Kannagi adorned the 4.5 km long Marina Beach of Chennai. Kannagi is patron goddess of loyalty and chastity. She is worshipped in Tamilnadu as well as in Sri Lanka.
The statue had a history of politics being played on that. The statue was installed in the year 1968, when C.N Annadurai (DMK) was in the power, but taken out in 2001 when AIADMK came to power, at the suggestion of 'vaastu expert' and astrologers that it will bring dooms and ill luck. Karunanidhi reinstalled the statue in the year 2006.
Kannagi is immortalized in the statue leaving back her legacy that she stood against all odds. She is the legendary heroin of Tamil epic poem 'Silapathikaram' written by Illamgo Adigal.
It is about her revenge against injustice being done to her husband Kovalan; Kannagi and Kovalan lived happily till he met Madhavi, a courtesan. Kovalan fell in love with Madhavi and started staying with her. In the process he forgets Kannagi and spent all his wealth on Madhavi. When he become penniless he came back to his wife, who forgive him and with a hope to begin their new life, she offered her ruby encrusted anklets to sell. Kovalan taking one of the anklets went to the market; in the mean time the look alike anklet of the queen of Pandiyan Nendujeliyan was stolen.
Jeweller happens to see the anklet in Kovalan's hand which he mistook as queens anklet, and informed the king's guard. Kovalan was beheaded at king's instance. Kannagi came to know about this and asked for justice in the Kings court showing the pearl encrusted anklet to prove that Kovalan was innocent as Queens's anklet has pearls inside it.
She cursed Madurai…..and that's why it is believed that Madurai's hot climate is because of her curse.
Kannagi's statue was put up entirely by the contribution of student from all over the state. The black Statue which shows her right hand clenching the ruby encrusted anklet in anger screams of its presence at the scenic Mariana beach as an epitome of justice.