Anti-naxal operation: It's high time now
New Delhi, Fri, 18 Jul 2008
NI Wire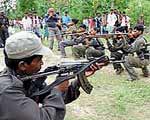 At the height of public debate over the Indo-US nuclear deal, the nation now needs to think a lot about its internal security due to rising Naxal attack in the eastern half. The latest Maoist assault in Orissa's tribal-dominated Malkangiri district that claimed 21 policemen's life is the second biggest attack within a span of 20 days.
A landmine explosion, triggered by the ultras on Wednesday evening, killed all security personnel present in a van. Earlier on June 29, in one of the most planned attack, Maoist killed at least 38 Andhra Pradesh's elite Greyhound forces in a reservoir in the same district. It is high time now for both Centre and affected State governments to re-evaluate their anti-naxal strategy.
Even though the Centre is waiting for the final report of the recent attack, two large-scale attacks in a single district with the help of sophisticated weapons and explosive devices are a definite indication of yet another intelligence failure. Soon after the blast, the chief minister of Orissa has asked for timely release of funds under the scheme of modernisation of police. While it is the time for some concrete measures, one wonders why such attacks are needed to remind our leaders that it is time to take Naxalism seriously.
Again a merely modernisation of police system is no way going to solve the menace; there is already special forces deployed in some of the specified districts. Security forces have been engaged in Malkangiri and Rayagada districts of Orissa, Aurangabad and Gaya in Bihar, Dantewada in Chhattisgarh and Chatra and Palamu in Jharkhand. But what the most surprising thing is how the special force is so weak in intelligence transformation. Both the June 29 incident and the recent attack on police forces only signal the failure of our so far anti-extremist plan on the ground.
Probably, the Centre or States are yet to take the report seriously coming out from the very notion that naxalism is just another law and order problem and searching for an answer with the development of counter insurgent group. It is high time now to think of an integrated action plan addressing a composite development of the Naxal-affected regions; only then the additional steps of modernising police or the Central government proposed jungle warfare training schools will be effective enough to take the cause. After all it's the people who are the partakers in the process of change.