Strengthening food security policy
New Delhi, Thu, 05 Mar 2009
Deepak Mohanty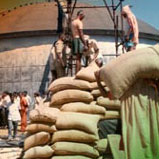 Recent report of the United Nations World Food Programme (UNWFP) highlights the fact that most in rural India are victims of malnutrition. In addition, a joint survey by the health ministry and UNICEF had reported that almost 46 per cent children under the age of three are undernourished. These reports speak otherwise of government's tall claim of making food available for all, through various flagship programmes. Taking these into account, our policy makers and the administrators should ensure proper execution of various schemes to eliminate questions on food security.
Despite a year-long economic boom with a growth rate of 9 per cent and government's claim to have achieved an increase food grain production with an annual growth rate of 3.7 per cent (as mentioned in the 2009-10 interim budget), universal access to food is still in question. India's economic growth has not reduced poverty i.e. well evident from various social indicators. Very little attention has been made to economic, social, and ecological sustainability.
The UN report further found that 40 per cent of children under the age of three are underweight and one third of the total population suffer from chronic energy deficiency. It then pointed out the need for a better coordination of availability of food, and access to food i.e. to facilitate the purchasing power of rural poor with alternative job opportunity or assisting them in improving their agriculture as the lone livelihood engagement.
Programmes like Sampoorna Grameen Rozgar Yojana (SGRY) and National Rural Employment Guarantee Act (NREGA) are though some of those encouraging measures towards poverty elevation, their effectiveness lies in providing wider reach and continuous physical development of rural areas.
Keeping the populist outlook, the Centre lately has increased allocation for various social schemes in the interim budget. Rural development ministry has reported a pleasing outcome of NREGA, citing employment to 3.82 crore rural household till date covering SCs, STs and women. On the contrary, Comptroller and Auditor General (CAG) report had point out irregularities citing only 14 per cent beneficiaries of those opting for it with promised days of employment.
Again as far as food security is concerned, programmes like the Targeted Public Distribution System (TPDS) through the "Antyodaya Anna Yojana" (AAY) are well intended to manage distribution of food grains at affordable rates, but their focus has been flattered in implementation. Corrupt practice by issuing illegal ration cards, poor monitoring with inaccurate data, and complexity in getting enrolled in the scheme are challenges to their efficacy.
Talking about agricultural production, though government claims a four per cent rise in last two years, there are a lot needs to be done in small-medium scale farming. If one goes with the latest released United Nations Industrial Development Organization (UNIDO) report which advised the developing countries to move more towards industrialisation rather than agriculture to reduce poverty, it can be observed that in a country like India where agriculture contributes much to its GDP, any attempt to expand manufacturing activity, sidelining agriculture would further add to its woes of food shortage and even high prices of food articles.
Government needs to bring more land under planned irrigation to tackle climatic challenges, and moreover steps should be taken to assist small farmers by providing them loans so as to further carry forward the four per cent growth rate in the last two years. On the whole, a broader outlook involving all those socio-economic elements and administrative agencies, which are interdependent, in making those government programmes work can guarantee sustainability in food production, distribution and consumption.