Shape of the things to come - A painting exhibition by Pratibha Singh
New Delhi, Sat, 21 Feb 2009
NI Wire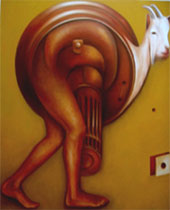 Solo art exhibition of recent oil paintings of Delhi based immerging woman artist Pratibha Singh, known for her unique style, will be opened on 21st February at 5:30 PM in Triveni Gallery, Triveni Kala Sangam, 205 Tansen Marg (Near Mandi House), New Delhi. This exhibition will be available for public viewing till 3rd March from 11:00 AM to 07:00 PM daily.
About the artist
The artist is born and brought up in Varanasi. She was inclined towards art field since her childhood. But after doing her graduation she realized that art and she are made for each other and she took it as her career. After her marriage she shifted to Delhi and got the opportunity to join TRIVENI KALA SANGAM. Since then she is associated with Triveni Kala Sangam as Artist under personal guidance of internationally acclaimed artist Mr. RAMESWAR BROOTA. Since then she has executed more than 50 art works in the medium ranging from Charcoal on paper to acrylic on canvas to oil on canvas. However since last 4 years she is mainly working in "OIL ON CANVAS". The artist chooses subjects of her paintings from day to day life and correlate the theme of her paintings with daily life.
About the paintings being showcased
Now a days human beings are surrounded by the things created by them rather than natural things. This is particularly true for urban population as they are surrounded by all the man made mechanical things. Now we have no other option but to find mental peace and harmony in these mechanical things only. Thus these manmade environment either has replaced natural flora & fauna or has merged with them. In the paintings being exhibited in this show the artist has blended mankind which is created by the nature and machines which have been created by man. The artist had portrayed beauty of softness against hardness of machines in these paintings. These also show merging point of hardness & softness, large & small, live & still and natural & manmade. Midpoint i.e. where the difference of these extremes tends to zero is the centre of attraction. Animals shown in the paintings represent animal instinct of man. These animal figures merged with man and machine portrays the amalgamation of ancient & modern environment.
Mr. Keshav Malik, a renound art critic and writer says about the paintings of the artist:
"Pratibha Singh's work is not sci-fi, but then she has used the same vision to compound contrary elements. In her hands the organic and the inorganic are brought into wedlock, apart from human-cum-animal forms. Now of course the new technology, that of medical inventions, have done so already, as in orthopedics. That is, it has taken recourse to the non-living to aid the living and the breathing. But that is a means to survival, an aid to life. The artist's aim is surely otherwise. For all art is devised for our inner introspection, for our retrospection; so that we play with our emotions of fear and wonder and what not in order that our awareness expands in freedom. We human are speculative creatures, and especially so our vanguard, the artists who exercise their imagination to the hilt. It is so this artist invents, not super realistic images, but of an evolutionary artistic designer's. And she does this with consummate skill and precision - almost with a technologic exactitude. The feel of her work is as of a scientific detachment, not of melodrama. She is tight-lipped, as to whether, her hybrids are revulsion causing or emotionally engaging. But still she does obliquely hint at the shape of things to come in the temporal world. H. G. Wells, as a novelist, had done exactly that a long while back. So why not painters too? By enacting odd images on canvas, artists stimulate us to think furiously so that we are enabled to disinfect the soak-pit of the contemporary collective consciousness."