To endorse institutional values
New Delhi, Thu, 05 Feb 2009
NI Wire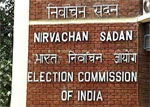 After the controversy over the recommendation of Election Commissioner Navin Chawla's name for removal by the CEC N Gopalaswami accusing the former political 'bias', the non-partisan role of the constitutional body is in question now. The spar between both the commissioners is not new but the present controversy is unfortunate when the nation is heading for the 15th general elections along with Assembly elections in some states.
The CEC Gopalaswami, whose term ends on April 20 prior to the Lok Sabha polls, has accused his colleague Chawla of being biased towards the ruling party Congress, and hence sent a letter of recommendation to the President seeking Chawla's removal. This further gave a voice to opposition BJP to press for the same as the party had already sought for action against Chawla a year ago. It even went to the Supreme Court though the petition was withdrawn later.
In the present instance, the Congress party has outrightly rejected CEC's recommendation of removal and even hinted to appoint Chawla as the CEC when Gopalaswami retires. However, under such circumstances, if Congress appoints Chawla to the post, it would be considered as a partisan move questioning the credibility of the institution, irrespective of the fact that whether the allegation is true or not. The standoff between both the commissioners has no doubt tarnished the image of the institution.
Congress, meanwhile, as the oldest political party needs to take an unobjectionable step. It has two options: either to go on and extend the term of present CEC Gopalaswami till the Lok Sabha poll ends, though it seems unfeasible, or appoint the third senior most Commissioner SY Quraishi to head the Commission. Either of the steps is well enough to take all political parties into confidence.
However, the bottom-line of the entire discussion is to make the constitutional body free, fair and impartial, out of any political influence. Hence, as some political parties suggested, there needs to be some major reforms in the structure of Election Commission.
The appointment of commissioners can be done with consultation of all political parties to avoid any accusation against any particular person as 'biased' or 'acting like a political boss'. There are also proposals to bring academicians, lawyers or other well-qualified personalities to the chair apart from bureaucrats. Such reforms are the needs of the hour to put an end to all political controversy and for the larger interest of the institution.