Pak's flip-flop continues
New Delhi, Fri, 30 Jan 2009
NI Wire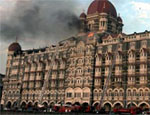 Amid media reports that Pakistani investigators had found no evidence of any use of Pakistani territory for the November 26 Mumbai attack has yet again resurrect the debate on India's future course of action to bring the perpetrators to justice. Any strong denial by Pakistani official, expected soon, in respect to the 26/11 attack would further be precarious for the peace in the region. The bilateral talk which is already on hold with no such progress after the Mumbai carnage will suffer the most.
The recent development from Pakistan's part whether the claim that the lone arrested militant Ajmal Kasab – involved in the Mumbai incident – is dead, or the arrest of three Indians for their alleged involvement in various terror activities in Pakistan is nothing but a desperate attempt to cover up the entire case. Investigating agency from Washington, New Delhi and London have already confirmed the hand of Pakistani elements, in particular Lashkar-e-Taiba (LeT), responsible for the Mumbai attacks.
Reports have been validated with the establishments of training camps and hard-line Islamic schools by those front line terror outfits such as al-Qaida and LeT. The detailed dossier handed over by Indian government to Pakistan on January 5 which consists of interrogation records of the lone surviving terrorist, forensic evidence and other documents talk loud about the connection of elements based in Pakistan. However, it seems Pakistan is more willing to continue with its arrogance policy which might bring the case back to square one.
Taking all this into account, the Government of India which is under tremendous internal political and public pressure will have to act decisively ahead of a general election to save its face from a complete security failure. Furthermore, any escalation of tension in the Indo-Pak border will give a chance to Pakistan to redeploy its force from its border with Afghanistan, where US is fighting to end Taliban-led insurgency. Here, the United States, too, has to make its views clear in getting Pakistan to act.
Confusions, too, prevail in prospect of prosecuting Mumbai suspects detained by Pakistan authority and on what charges, while claiming that any terror act carried out outside Pakistan is out of their jurisdiction to book the culprit. So, what kind of hand the neighbour is lending to India is not understandable besides the fact that Pakistani authority is playing its as usual flip flop game taking the shield of US operation in tribal areas bordering Afghanistan.
Though there is no such official confirmation on the findings of Pakistani probe but Pakistan High Commissioner to Britain Wahid Shamsul Hassan's comment to a television channel that Mumbai attack was not planned in Pakistan spells out the challenge ahead for India to book those responsible for the dastardly attack.