Assam honours a Living Legend
Guwahati, Fri, 30 Jan 2009
Nava Thakuria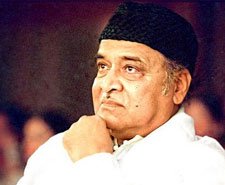 Assam has honoured a living legend in conferring the first Asom Ratna on Dr Bhupen Hazarika. On behalf of the people of the State, the chief minister Tarun Gogoi presented the award to the greatest musician of our time in a function held at the Pragjyoti ITA Centre for Performing Arts, Guwahati on Thursday evening. The award comprises a memento, a plaque, a citation and a draft of Rs. 3 lakh.
A multifaceted genius, Bhupenda (as he is popularly known) was recently awarded with the Sangeet Natak Academy Ratna. The revolutionary poet, music composer, singer, actor, journalist, author and film-maker was honoured with Sangeet Natak Academy award in 1987 for his outstanding contribution towards Indian music.
Born in Sadiya of upper Assam in 1926, Bhupenda completed his preliminary education in Guwahati. Later he studied in Benaras Hindu University for his BA in 1944. He completed his M. A. in Political Science in 1946. Then Bhupenda left for New York for his PhD in Mass Communication from Columbia University.
A popular editor of 'Amar Pratinidhi' and 'Pratidhwani' of bygone era, Bhupenda received numerous awards including Padma Bhushan and Dada Saheb Phalke award. He was honoured with Padamshree in 1977 and the next year he received Gold Disc for his outstanding contribution towards Indian Music from the Gramophone Company of India. The Assam government earlier bestowed Shankardev Award to him in 1987.
Bhupenda began his career as a child artiste through 'Indramalati', the second talkie film made by Jyotiprasad Agarwala in 1939. Later he emerged as a sensitive film maker as well. He won President's award for his films namely 'Shakuntala', 'Pratidhwani' and 'Loti Ghoti'. Bhupenda also won the best music director's award in 1977 for 'Chameli Memchab'.
The highest honour of Indian film industry, Dada Saheb Phalke award was conferred on Bhupenda in 1993. The Indian government honoured him with Padma Bhushan, one of the highest civilian awards in 2001.
Conferring the Asom Ratna award to Bhupenda, the chief minister described him as the most deserving son of humanity. He also declared about the government's plan to initiate an award in the name of Dr Hazarika. On the other hand, receiving the coveted award, Bhupenda described it as a great honour to him in his lifetime.