LOC Will Melt at Wagah-Attari Border on Independence Day
New Delhi, Fri, 10 Aug 2007
Binita Tiwari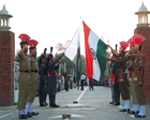 Aug 10: LoC and music! Sounds queer. We hear only shots, killings and every filthy sound which creates fear. Music will wave in the air of border on Independence Day and LoC will melt for a while, as Indians and Pakistanis are gathering for the exuberant musical concert at Attari–Wagah Border. No need to tell it is celebration our 60 years old independence.
This is an essay of Rakesh Gupta secretary of NGO 'Routes to Roots', to bring the august gathering for this concert to unite people across the border. This concert is seen with lots of speculations as titans from both the countries are coming to cheer the sentiments related to the independence of both the countries. A.R Rehman, Rahat Fateh Ali, Atif Aslam, Shahrukh Khan, Juhi Chawla, Safqat Ali and the great legendry cricketer Wasim Akram will be there to host this unique and exciting event on borders which will be live on air in both the countries.
It would be like separated brothers meeting on the same platform, where they dissociated from. Let's hope that new chapters of friendship are written on the border and we commit ourselves to consolidate it further and don't take our steps back to the gaps in the relationship.
Since the creation of these two nations, there have been many wars fought with occasional incidents of gunshots at the border. The conflicts were either because of Kashmir issue or India supporting creation of Bangladesh, Siachene glacier or nuclear issue etc.
Every now and then both the countries shuttle from peace to conflict. In the year 1998 if India conducted Pokhran nuclear tests, Pakistan retaliated by conducting six nuclear tests at Baluchistan. 1999 showed signs of improvement of relationship when the then Prime Minister Atal Bihari Bajpayi crossed border to meet his counterpart Nawaj Shariff.
We were not treated with reciprocal gesture but on the contrary ditched by the intrusion of Pakistani soldiers on Indian soil. Let's bury the past. 'kargil struggle', attack on assembly of Kashmir , on Indian parliament and various other hurdles build the tensions across the borders with lining up of thousands of troops.
Peace initiatives were taken by both the nations through several bus and train services, when the family, brothers and sisters got united across the border. It was an emotional integration watched and hailed across the world.
After crossing many obstacles we (people of India and Pakistan) have been able to bring harmony on borders.
Let's fight together with these enemies of humanity. As both the countries carry the burden of hunger, poverty, illiteracy and insurgency on their shoulders. We have yet to provide basic facilities to the people. We have yet to shrug off suspicion and mistrust against each other.
The hopes are high if not in political consciousness but in the heart of people; the Samjhauta express blast but consequent solidarity of people mark the undying faith in one another. The family members of PoWs visited Pakistan Jail and this move was applauded by the world. This shows that people remain undivided and ready to leave their past behind.
India and Pakistan share the same history, anguish and pain ....identical taste of curry to costume…whenever there is an effort to carry peace process people across the border are overwhelmed by emotions. Whenever the bus crosses the border it carries the memories of past…and hopes in many eyes that they will meet again the people they have left behind, whenever there is a union there is tug of emotion, and wrench when they part again .
Such Musical extravaganza is the concerted effort of people who want to harmonize relationship between the two parts of the same heart. There will be outpouring of emotions as they will be celebrating the Independence Day together also the day of their division, but here comes a chance to celebrate our differences and similarities.
Let's wish success to this hand extended for friendship on border.