Under trials: victims of cruel and insensitive system
New Delhi, Sat, 04 Aug 2007
Pallavi Sharma
null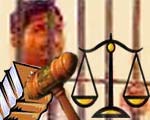 Aug 04: When we listen the term 'prisoner' we get little bit uncomfortable and our mind at once creates a picture of a person with dangerous instincts, a murderer, a thief, a dacoit and many other categories.
But let me reveal a fact to your comfort that this dangerous category constitutes only a small fraction (hardly 1%) of the population of any jail in India. Most of our jails are overcrowded not by convicts but ill fated under trials. This must evoke the curiosity what is the difference between a convict and an under-trial.
Who is an under trial? An under-trial is one who has been arrested for some crime waiting to appear before the magistrate. Such person is accused and his or her guilt has not proved yet so can not be called convict.
Their conditions are pathetic and worst because most of them come from a poor strata of society having no income, education and awareness of their rights not to say of any legal procedure to get justice. More depressing fact is that they languish in jails in inhuman conditions like convicts for years may be 5, 10, 15, or 50 for such minor offences as theft, vagrancy etc. and sometimes they themselves don't know why they have been arrested.
Their human rights are constantly and vehemently violated by……….(can not identify whether it is courts who don't provide speedy trial or law enforcement agency who does not present them for trial and jail authorities who exploit them or state who has evolved such defective system of justice).
70% of jail population is under trials and jails are extremely more than tightly packed with crowding percentage of 442% in Mizoram, 260% in Jharkhand, 221% in Delhi, 165% in Harayana, 115% in Chhattisgarh.
A hue and cry about Haneef's innocence saved him from gross injustice though after a long spell of suffering but everybody is not as fortunate as Haneef especially in India.
Who will take care of the thousands of poor souls who are suffering in different jails of the country for no fault of them. This was the sense I could make out of the concern a judge of the Supreme Court expressed over the injustice meted out to the under-trials by our system.
Judge's words drew attention to the condition of the under-trials of our country. Let me make you aware with their conditions. Most of under-trials are from low income groups who can't afford their bail. The Supreme Court in its writ once expressed concern about the loss of faith of these prisoners in judicial system which denies them a bare and fair trial for so many years.
Even judges accepted that a procedure which keeps such large number of people behind bars without trial so long can not be regarded as reasonable, just or fair. This is torture by the whole system.
Here are some references which shriek about their agony. Recently Machung Lalung has been released after the detention of more than 50 years waiting for his trial from Assam jail that is also on the intervention of civil rights group. A simple human soul was destroyed by the cruel system expressed a human rights activist.
Civil rights groups reports can provide you with hundreds of such names who are awaiting for their trial in jails for years for minor offences. If want to look for more you can have a look at the cases with NHRC. Khalilur Rehman has been waiting for his fate to be decided for the last 35 years the case is no different with Anil Kumar Burman who is in queue for32 years. Such violations take place even when the Criminal Procedure Code of India says that detained person during pre-trial should be produced before the magistrate every 14 days for the extension of remand.
Now let's have a look on the conditions and functioning of the jail administration. Raman Nanda's research says that poor homeless street children are picked up by the police on the charge of vagrancy and made to do all the menial work.
Once under trial is a criminal forever attitude is adopted by the police administration and these vagabonds are used by the police to dispose off their cases. They are beaten to confess the crimes, which they have not done. While releasing the prisoner they just enquire other police stations if they are needed for any of their case to bind up says the research.
In jails prisoners are not provided proper food, medical and accommodation. Situation is worst for women prisoners (under trials) they are bailed out for sexual exploitation by the jail personnel. Then there are custodial deaths, rapes, tortures etc.
Thus a right to a dignified life is denied to the whole brigade of youth. Their dreams are shattered.
Now don't assume that there is no law for the protection of these under trials. Definitely there are directions and guidelines by the Supreme Court but no agency pays heed to them.
To make justice easily available to the prisoner right to legal aid has been made a constitutional right. If a prisoner is unable to use his right for lack of money or other reason it is government's duty to provide him with legal assistance.
Right to speedy trial is another bench mark right which is implicit in article 21 of the constitution.
Beatings which take place in jails or police stations are illegal. There are protections from torture, handcuffing and solitary confinement to the prisoner but jail administration very boldly violates these laws along with the basic human rights of prisoners.
What we need to do is to inculcate a human approach towards these prisoners. Human rights of the prisoners are to be recognized by the authorities. Jail administration is to be given a human aspect.
For under trials it is judiciary only who can provide relief to them by trying them in time without destructing the life of unprivileged. Judiciary needs to be sensitized on the issue.
Justice Sodhi recently accepted that it is 'absolute insensitivity' on the part of judiciary that thousands of human souls pass their whole lives behind the bars just because we don't have time to try them.
Some also found fault with the bail system which provides opportunity to get free only to rich and not the poor. The poor are not able to afford the bail due to lack of money. Thus their all rights right to liberty, dignity, right to equality are violated.
Conclusion boils down to one fact it is state agencies only who are working against the poor. Hope that when you next time listen the term you don't evoke a disgusting gesture for those poor souls and fill yourself with a spirit to fight for not-delayed justice.
Forgot to mention that India for its strong human rights record has once again been elected for Geneva-based Human Rights Council. Co incidence or irony.
null